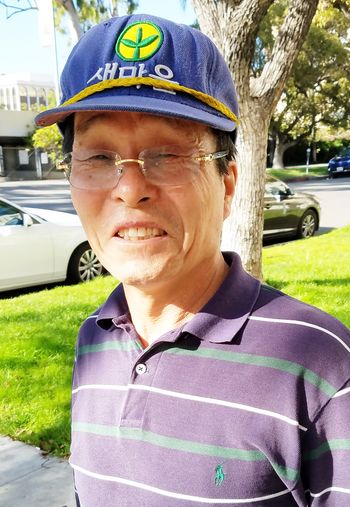 "It may not be much, but I hope this goes into helping a homeless person. I really want to help."
The Korea Daily received a phone call on Dec. 23 while publishing a series of in-depth reports on L.A. Koreatown's homeless people between Dec. 21 and Dec. 24. The person made the call came into our office on Dec. 28 with a check written for $2,000.
That man is Eui-jin Lee, a 65-year-old owner of Korean restaurant Kimbap Paradise in Koreatown. That is not to say that Lee is a money-raking business owner.
Kimbap Paradise is a small neighborhood restaurant. The $2,000 he brought is the money he made from making food deliveries over a period of time.
Kim refused the Korea Daily's interview request saying that he does not want to draw attention before adding, "My life is stable as is. This is enough for me. I want to give what little I have left to help others now."
"I read that one of the homeless men said he wants to have a burger for Christmas," Lee said. "That was painful to read."
Lee immigrated to the U.S. 19 years ago after his business in South Korea collapsed. He had little to no money. All he had when he landed in L.A. was a backpack.
His first paycheck was worth only $200 after he worked as a construction. After earning an opportunity to apply for a green card, he then invited his wife and daughter.
"My wife and I slept at the restaurant and worked there all day," Lee said. "We were paid $500 a month. I still can't forget how my wife was crying in a small room."
Lee moved around the city for different jobs, but making ends meet was an ongoing struggle for him.
"I was nearing my 50s then," Lee explained. "But the construction workers there had no respect for me."
Lee said that his past experiences are what led him to believe that he should spend the rest of his life helping those in need.
"Think about how the homeless are surviving," he said. "I can't imagine the kind of discrimination they face. I'm sure that is not how they wanted to turn out."
Lee also asked the Korea Daily to keep him posted about others who may need his support.
"I want to live my life advocating for people to help others in need," Lee said. "That's how I plan on living my life. That's how I could live without leaving regrets."
The Korea Daily plans to give a part of donations directly to the priest Yohan Kim, who runs a homeless shelter. The rest of the money will be spent in purchasing items for homeless people, which will be donated directly to them.
By Soo Yeon Oh