An increasing number of Koreatown restaurants are offering daily special menu.
Contemporary Korean restaurant, The Zipbob, has about ten items on the menu, including Soft Tofu Soup, Kimchi Stew, and Soybean Paste Soup. However, customers can enjoy more variety by ordering Today's Special. It's a daily special item offering different dishes everyday. As more people prefer the daily special over the regular menu items, many enter The Zipbob asking, "what are you serving today?"
The owner of The Zipbob said that she doesn't really plan ahead for the daily special items. "We determine the item depending on the market price or the weather," said she. "When it rains, we go by soups and when it's hot, we serve cold noodles."
Daily special item is offered at $9.99, which is $1 to $4 cheaper than the regular price. It is served all day, but limited for 40 orders.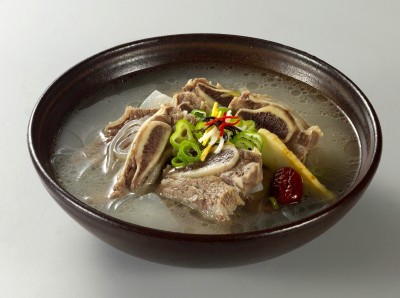 Park's Barbeque offers lunch special deals every weekdays. Lunch special menu, which includes Kimchi Stew, Tofu Stew, Beef Short Rib Soup, Spicy Beef Stew, and Bulgogi, are available at $7.99, while Combo special menu with noodles and meats are $10.99.
The number of customers on each weekday implies the most popular special item. Wednesday is one of the busiest days at Park's, with Beef Short Rib Soup served at $7.99 – $5 cheaper than the regular price.
"Serving Beef Short Rib Soup at special price on Wednesdays over a decade, now we have regulars who come to eat every Wednesday," said Jenny Kim, the owner of Park's Barbeque. "Wednesday lunch certainly is the busiest time in our restaurant."
Chosun Galbee is also popular for its weekday lunch special menu. Kimchi Stew and Duk Gook, Duk Mandu Gook and Nang-Meun, Duenjang Chigae and Yookejang, Galbee-Tang and Duk Gook, and Taro Kookbob and Bibimbap are served respectively. Surawon, too, serves lunch special menu, which is available at $7.99.
Locations
The Zipbob: 4003 Wilshire Blvd, Los Angeles, CA 90010
Park's Barbeque: 955 S Vermont Ave, Los Angeles, CA 90006
Chosun Galbee: 3330 W Olympic Blvd, Los Angeles, CA 90019
Surawon: 2833 W Olympic Blvd, Los Angeles, CA 90006
Original document available from www.koreadaily.com/news/read.asp?page=6&branch=LA&source=LA&category=economy&art_id=4264046
Translated by Heewon Kim