A Korean female was stabbed by a Korean male stranger. A Caucasian male, the victim's boyfriend, then shot the attacker.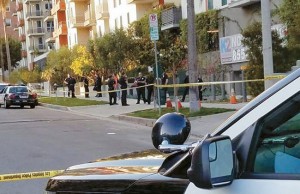 A group of 3 young people (2 males, 1 female) was involved in this act of violence where 1 male was killed and the female fell into critical condition.
According to the LAPD, the shooting occurred around 5:30 in the evening next to the K2LA Apartments on South Berendo Street in Koreatown. There have been multiple violent exchanges at the K2LA apartment parking garage, such as an instance where a Korean male in his 20s was fatally shot and killed by a Caucasian male in his 30s.
The 31-year-old Korean woman who was attacked is reportedly in critical condition. The LAPD arrested the Caucasian male immediately after shots were fired.
In an on-site briefing, LAPD Captain Timothy Nordquist commented, "There was a dispute between a Korean male and female in an apartment parking garage. The Korean man who wielded a knife against the woman was shot and killed by a Caucasian man."
Norquist continued, "The Korean male died in transport en route to the hospital. The Caucasian male who fired his weapon stated that he was acting to protect his girlfriend who was stabbed."
The relationship between the Korean male and female and the specific events causing the violent outburst are unknown.
Meanwhile, the LAPD investigated the incident, inspecting a block around the apartment complex until midnight. K2LA Apartments offers studio apartments for $2,000 monthly rent.
Originally reported by Wonhee Cho and Hyeong Jae Kim
Original article manuscript can be found here
Translated/Adapted by Hankyul Sharon Lee