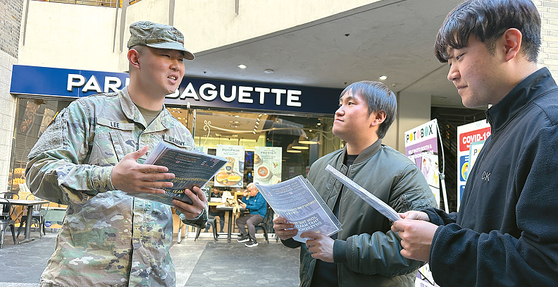 The number of Koreans enlisting in the U.S. military has more than doubled during the pandemic. Koreans account for the sixth highest number of foreign nationals who became U.S. citizens after enlisting in the military.
According to the U.S. Citizenship and Immigration Services (USCIS) U.S. Military Naturalization Statistics, a total of 1,680 Korean nationals have been naturalized as U.S. citizens in the last five years. Each year, more than 330 Korean nationals choose to naturalize after joining the U.S. military.
By nationality, Filipinos are the most likely to naturalize, with a total of 4,380 Filipinos naturalized during the same period. Koreans are sixth, after Jamaicans (3,850), Mexicans (2,860), Nigerians (2,520), and Chinese (2,040).
Looking at Korean Americans separately, enlistments have recently been on the rise after a pause due to the pandemic.
By fiscal year, the number of Korean enlistees reached 510 in fiscal years 2018-2019, followed by a decline in fiscal years 2019-2020 (280) and 2020-2021 (260), before rebounding in fiscal years 2021-2022 (310) and 2022-2023 (330), as the pandemic slowly eased. Compared to the lowest number of Korean enlistments in 2020 and 2021, the number of Korean enlistments last year surged by about 30%.
"When we do recruitment outreach, there are a lot of Koreans who are interested in joining the U.S. military because the economy is so bad after the pandemic. People are coming to the military to seek army benefits," said Hyungmin Lee, a recruiter in the U.S. Army (in charge of Koreatown in Los Angeles).
The increasing trend in military enlistment is not exclusive to Koreans; it encompasses individuals of various nationalities as well. Notably, the MAVNI program, which was an enlistment option for foreign nationals without permanent residency, has been closed since 2017. Despite this, the overall number of enlistments has continued to rise. This suggests that foreign nationals holding green cards are actively enlisting in the U.S. military.
According to USCIS, a total of 45,560 people have enlisted in the U.S. military since 2019. On a year-by-year basis, in the last fiscal year (2022-2023), a total of 12,140 people opted to naturalize from the U.S. military. This shows that the number of enlistments has been heating up: 2018-2019 (4,360), 2019-2020 (4,570), 2020-2021 (8,800), and 2021-2022 (1,690).
In particular, the number of enlistments has more than doubled every year since 2020, when the pandemic began.
The percentage of foreign nationals who chose to naturalize was highest in the Army (62.6%). This is followed by the Navy (19.6%), Air Force (9.1%), Marines (6.3%), and Coast Guard (0.3%).
"I joined the Air Force when I was in my mid-20s after graduating from college, and now I'm working in the medical industry using my Military Occupational Specialty," said Kyungwoon Ham, 44, a former U.S. Air Force veteran. "There are so many branches of the military that you can continue your career after you leave the military, and the military benefits are so good that joining the U.S. military can be a good option in this time of recession."
In fact, according to USCIS statistics on U.S. military naturalizations by age (since 2019), the most common age group is between 22 and 25 (15,000). This is followed by 26-30 year-olds (9,830), 31-35 year-olds (7,650), 19-21 year-olds (6,970), and 36-40 year-olds (3,070).
For example, the U.S. Army currently offers citizenship upon enlistment, as well as full tuition reimbursement, an enlistment bonus (up to $50,000), 100% health insurance, a pension, a 401K, a housing allowance, a meal allowance, 30 days of paid leave per year, and a military-specific home loan program.
Notably, even if you enlist as a general infantryman in one of the 150+ military branches, your base salary is around $2,200 per month. Recruiters say that many Koreans and Korean Americans are interested in joining the military because they have the opportunity to work overseas, including in Korea.
According to USCIS statistics, more men (29,820) than women (17,300) have chosen to naturalize in the U.S. military in the past five years. In addition, foreign nationals who have chosen to naturalize after Koreans include Ghanaians (1,600), Haitians (1,430), Cameroonians (1,180), and Vietnamese (1,090).
For more information about joining the U.S. Army, call (213) 550-7208.
For more information about joining the U.S. Navy: (805) 574-3100
BY YEOL JANG, JUNHAN PARK    [jang.yeol@koreadaily.com]