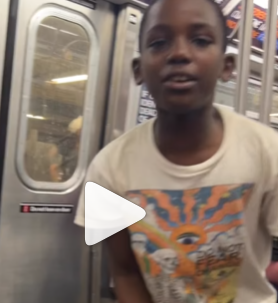 Last month, an incident involving a Korean American family being attacked by black teenagers on the New York City subway was widely reported. Now, another unsettling incident has emerged involving a Korean traveler who was harassed by a black boy on the subway.
The woman, visiting New York, detailed her experience on social media, describing an incident from last August. In the video she posted, the black boy can be seen grabbing his hat and bag and approaching her. He briefly interacts with her and hurriedly exits as the subway doors open.
"He took my phone, then handed it back. He threw his hat in my face multiple times," the woman recounted. "I told him to leave me alone. He just laughed. When I told him I was a tourist hoping for good memories, he mocked the word 'traveling'."
"It felt terrible to be mocked on the subway by a young boy like that, especially being in a foreign country," she added. A person on the scene allegedly told her, "I've never seen harassment like that before."
However, some netizens who viewed the video speculated that the boy might not have said "Sorry" in his parting words, but rather "Shabi," a derogatory Chinese term equivalent to "stupid cunt."
By 4 p.m. on September 12, the video had amassed over 7,200 "likes". Many netizens commented with concerns like, "Why didn't anyone intervene?" and some expressed anger, pointing out that similar incidents seem more directed at Asians.
Such instances aren't isolated. Earlier in August, a Korean American family from Nevada was harassed by black teenagers on the subway during their summer vacation in New York.
Subway-related crimes are on the rise. In a notable case from last year, a black man pushed a 40-year-old Asian woman to her death at the Times Square subway station. The New York Police Department has reported a 30% surge in subway crimes last year and has increased arrests by 47%. To tackle this, they've deployed over 1,200 additional officers to patrol the subway.
BY SUAH JANG    [jang.suah@koreadaily.com]