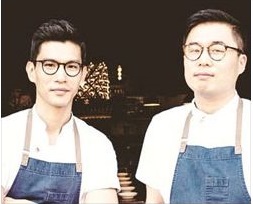 'Pine leaves smoked mackerel' from Oiji, a modern Korean restaurant located in East Village, Manhattan, has been ranked in NY Times Top 10 Restaurant Dishes of 2015. According to the NY Times, "creamy, tender, rich with a Christmas-tree scent, Oiji's mackerel tastes as if it swam upstream until it got lost in a mountain forest." Eater NY also has ranked Oiji as one of the best modern Korean restaurants in last August.
Born and raised in Korea, two chefs of Oiji, Brian Kim and Tae Kyung Ku, met each other in culinary school in the United States and opened Oiji with a shared goal to reinterpret Korean dishes and to introduce them for affordable prices. Their menu includes yuk hwe, pork-belly and Kimchi stew, as well as the famous honey butter chip.
Is Oiji appealing to non-Korean customers?
More than 60% of our customers are Americans. We Americanized our recipes to make Korean ingredients more approachable to non-Korean customers.
Isn't 'smoked mackerel' rather unfamiliar to New Yorkers?
We used apple wood for smoking to leave light and sweet scent on mackerel; Using pine leaves allowed us to generated a hint of Korean twist on the dish.
Is Korean food popular in New York?
Interests in Korean culture in general, such as Psy or K-pop, are extended to interest in Korean food. We are always trying to find ways to approach to the public who are not familiar with Korean food.
Original document avaliable from http://www.koreadaily.com/news/read.asp?art_id=3898382
Translated by Heewon Kim