People who see him at first mistake him as a foreign model working in Korea. But Han Hyun-min, as his name suggests, is Korean. Born between a Korean mother and a Nigerian father and raised in Korea, Han, of course, speaks Korean fluently.
Han Hyun-min took his first step on Korea's runway less than a year ago. Despite his lack of experience he stood out in the field, which enabled him to model for ten Korean men's clothing brands at Seoul Fashion Week in October, 2016. It is the first time for a 15-year-old teen and multiracial model to be so successful in Korea.
Now 6'2″ tall Han has been dreaming of becoming a model since his childhood. He says that seeing cool designs made him happy. Instead of attending a modeling school that costs about $2,000 per three months, Han practiced walking watching videos on YouTube. It was when he met Yoon Beom of SF Models last spring that he could realize his dream.
President of Han's current agency, Yoon saw a photo of Han Hyun-min on his Facebook and contacted him. Yoon asked Han to show him walking on a street in Itaewon, Seoul and signed the contract right away. Audition for the Seoul Fashion Week, the biggest fashion event in South Korea, was only a month away at that time, but he had shown an impressive performance in such a short period of time.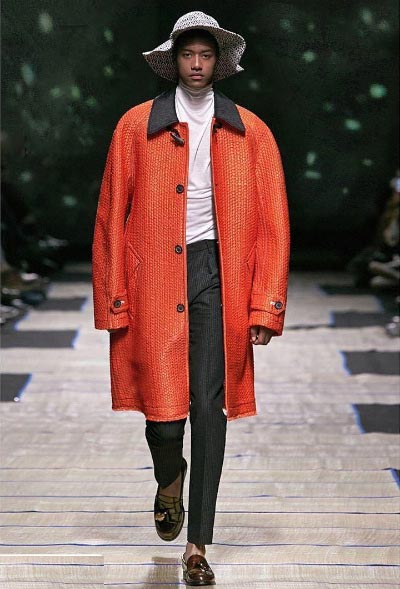 "I think I was able to absorb new knowledge and skills so fast because of my lack of experience," says Han. Fortunately, the reactions were more than expected. Especially, his skin color and bodylines made vivid colors and fancy decorations stand out. He was casted as the opening model for designer Han Sang-hyuk's HSH March Seoul Fashion Week runway, which is an unprecedented achievement as a newly debuted model.
Han credited "miraculous lucks" for all these incidents. There had been no room for a black model to stand in Korea until recently. However, the barrier is being lowered, thanks to social media and international brands that cast models of various races to represent their brands.
"There aren't so many disadvantages I feel as a mixed-race model in Korea, except that people don't speak to me backstage because they presume that I don't speak Korean," says Han. "I understand how I can act as an important precedent in this field," he added. "The number of multiracial models in Korea will increase and I want to be a good role model for them."
Original article by Lee Do-eun
Translated by Heewon Kim