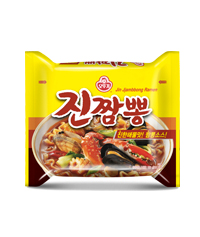 Couple of years ago, one of the spiciest instant ramen products in Korea, Buldak Bokkeum Myun was found popular in the U.S., since its import was delayed inspite of massive popularity in Korea. Due to the shortage, its price was skyrocketing, sold only online. Such price rise happened once again when Honey Butter Chip was released and now, Jin Jjampong (진짬뽕) succeeded to the trend, being sold for the price eight times as expensive as the original price in Korea.
According to the price listed on Amazon, one Jin Jjampong was sold for $6.14, multipack with four Jin Jjampong for $17.50. Compared to the price in Korea, which is $0.74 (860 Korean wons) it is about eight times as expensive. Regular shipping will deliver this luxurious ramen only after a month, but it is still found much popular, with only twelve multipacks left in stock.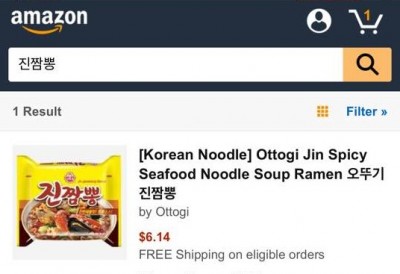 Such massive popularity is partly due to its delayed import. Jjampong ramens,  which mimic the taste of Jjampong, are trendy in Korea with more than five new Jjampong ramen products released recently. Notwithstanding the trend, Jin Jjampong, which is the first to be released as well as the most popular one in Korea, hasn't been imported to U.S..
With piqued curiosity, many people willingly purchase Jin Jjampong for the price that can almost buy a bowl of Jjampong at Korean restaurants.
Original document available from www.koreadaily.com/news/read.asp?art_id=4154979
Translated by Heewon Kim