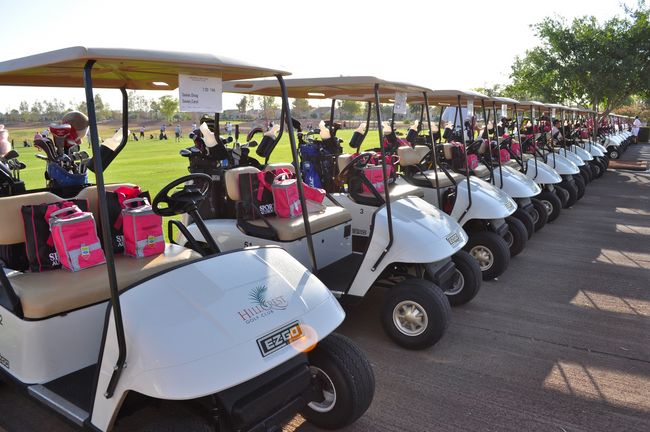 A research has shown that there are about 90 Korean-American-run golf tournaments in a calendar year hosted by various community, corporate and nonprofit organizations. On participation alone, those tournaments are raking in up to $1.8 million a year.
The research, conducted by the Korea Daily, collected data on golf tournaments organized by Korean-American organizations between June of last year and this past May. Only tournaments with at least 40 participants were counted. The research showed that the Korean-American community hosted at least one golf tournament in four days through 12 months.
Average of 130 golfers participants in each of those tournaments. A participant paid an average of $137 to compete, including the green fee, per tournament. In other words, the Korean-American golf tournaments over the last 12 months have collected at least $1.6 million. After counting sponsorships and donations, the total cost is believed to be around $1.8 million.
A Korean-American company last month hosted a golf tournament, which charged each participant $150. About 120 participants competed at the tournament. Including dining and other costs, each participants obviously spent well over the minimum of $150.
"The green fee doesn't differ much, but the cost to prepare food and gifts is what drives up the expenses," said an employee of the company that hosted the tournament. "If the cost goes over our budget, the company obviously has to make additional funding."
For the golf courses, Korean businesses and organizations have obviously become VIP guests.
"The Korean community is especially adept at organizing successful golf events compared to others," said an employee of one of the golf courses in L.A. County. "It's not often they try to keep the costs low when it comes to spending on food and the event overall."
Another employee at a different golf course said: "Most Korean golfers seem to have more interest in the after-party than the actual tournament. Some of them even spend $2,000 to $3,000 for higher quality entertainment."
In terms of the tournaments' size, the ones with 144 competitors were the most common. However, tournaments with 40 or less golfers were also plentiful.
L.A., Orange County, Riverside and San Bernardino hosted the largest number of tournaments, but Fresno, San Diego and Palm Spring also hosted many Korean golfers over the last year.
Meanwhile, golf course managers explained that Tuesdays and Wednesdays often provide the lowest rates for tournaments. For weekend reservations, guests are encouraged to book at least three months ahead. They also advised that using the golf clubs' restaurants may just be the most convenient way to accommodate the participants.
By Brian Choi