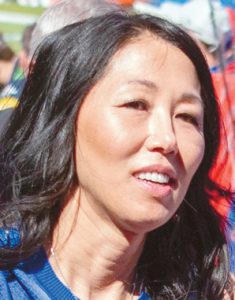 Kim Pegula (53), who was adopted to the U.S. at the age of five and became the first Korean woman to become an "NFL owner," is undergoing rehabilitation after a heart attack.
On the 7th, Kim Pegula's daughter and a professional tennis player Jessica Pegula, wrote an article on the sports media player Tribune that starts with, "I want to talk to you about my mom." In the article, she said her mother was taken to a hospital last year with symptoms of a heart attack and has been rehabilitating since she regained consciousness.
Kim Pegula is co-owners of the NFL Buffalo Bills and NHL Buffalo Savers with her husband Terry Pegula.
Kim met Terry Pegula during a restaurant interview to work and save money for a trip to Alaska, and fell in love. The two later sold a small natural gas company for $4.7 billion in 2010 and established Pegula Sports & Entertainment. In 2015, they made the headlines on the Forbes magazine as a Korean adoptee who became the owner of the NLF.
According to her daughter's article, Pegula collapsed at her home in June last year due to symptoms of a heart attack. Kelly, the daughter who was staying with Kim and Terry at the time, performed the CPR, and the paramedics transferred Pegula to the hospital.
She was taken to a hospital and was reportedly unconscious for a week, because it was difficult to supply oxygen to the body due to a heart attack and even had a stroke.
Jessica wrote in her article, "We lived in that hospital for basically two weeks. We took shifts, we brought each other food, we knew all the nurses and doctors, we even knew their schedules…Luckily, she made small improvements, she moved out of the ICU after about a week, and into an in-patient care facility. She was aware, talking a little, but a long way from her normal self."
She went on to say, "She can read, write, and understand pretty well, but she has trouble finding the words to respond. It is hard to deal with and it takes a lot of patience to communicate with her, but I thank God every day that we can still communicate with her at all."
Jessica Pegula, meanwhile, is known as the fourth-ranked female tennis player in the world.
BY KIM HYUNG-JAE