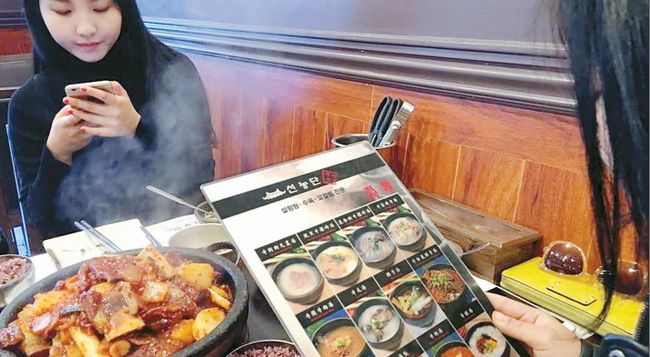 As Los Angeles Koreatown continues to host more Chinese visitors in recent years, many businesses are making an effort to fully grasp their consuming habits. Many restaurants and cafes are now providing Chinese-language menus, while some retailers have even launched online shopping platforms targeted for the Chinese.
It has already been widely known that Korean barbeque and soup-based dishes have long been popular among the Chinese, many of whom use Yelp, a smartphone app providing crowd-sourced online reviews of local businesses, to find restaurants in Koreatown. Chinese visitors in Koreatown, who are growing rapidly in numbers, have convinced many business owners to treat the crosstown neighbors as an emerging generation of their next customer base.
"Businesses in Koreatown need to understand what their Chinese customers are interested in and what their needs are," said Soa Kang, the founder of Asian-American marketing agency adCREASIANs. "If businesses can provide an added value to their Chinese customers by fulfilling what they're looking for in their consumption of Korean food and other goods, bigger opportunities will arise."
The restaurants across Koreatown, including Soowon Galbi, Park's Barbeque, Chung Kiwa Restaurant and Hae Jang Chon Korean BBQ Restaurant have already begun using social media to appeal to Chinese-speaking customers. Many of them have even placed ads in Chinese newspapers, such as Asian Weekly and World Journal.
The effort to attract more Chinese customers is not exclusive to restaurants. MengMengDaShop.com, Korean-American online shopping mall, recently launched a Chinese language website as cosmetic products containing ginseng and green tea powder from South Korea have become immensely popular among Chinese consumers.
As expected, Korean herbal cosmetic products has been the No. 1 selling item on the website for the last three months, according to MengMengDaShop.com.
"Having analyzed the spending pattern of the Chinese customers, the most popular item has been cosmetic products," said MengMengDaShop.com president Brandon Lee. "Many of them even bought several bottles of anti-hair loss shampoo at once."
By Sung Yeon Lee