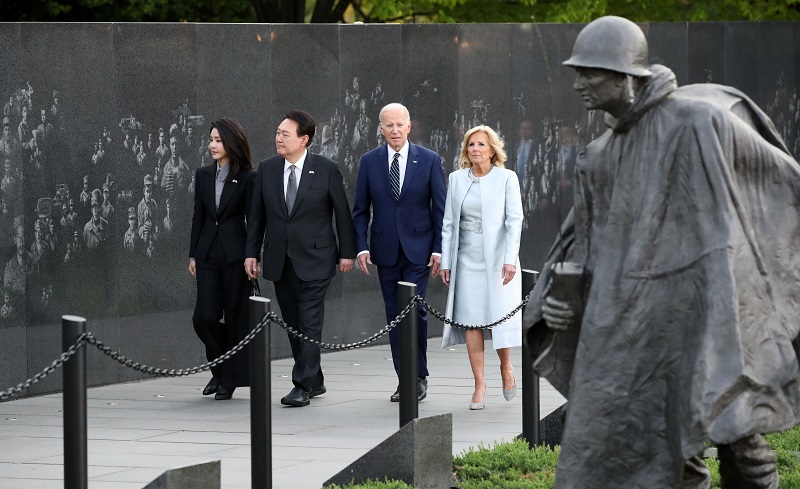 WASHINGTON – President Yoon Suk Yeol and U.S. President Joe Biden visited the Korean War Veterans Memorial Tuesday evening in Washington in their first encounter ahead of their bilateral summit.
They were accompanied by their first ladies, Kim Keon-hee and Jill Biden.
They viewed the Wall of Remembrance at the memorial on the National Mall honoring soldiers killed in the 1950-53 Korean War.
The names of over 36,ooo Americans who died during the war and over 7,100 Korean augmentation troops to the U.S. Army are inscribed on the Wall of Remembrance, which was opened to the public on July 27, 2022 as a symbol of the Korea-U.S. alliance.
The $22 million project to build the monument was funded by donations from the people of both countries and Korean businesses.
The presidential couples later laid wreaths at the memorial and paid respects to the war dead in silence.
In 2013, then U.S. President Barack Obama visited the Korean War Veterans Memorial to pay tribute to veterans to mark the 60th anniversary of the end of the Korean War.
Earlier Tuesday, Biden and Harris formally announced they would seek a second term in 2024.
The joint visit to the memorial is seen as a part of events to highlight friendship between the two sides.
On Wednesday, Yoon will be received in an official arrival ceremony at the White House. Yoon and Biden will hold their bilateral summit at the Oval Office, followed by a joint press conference at the Rose Garden. They will be joined by the first ladies in a lavish state dinner, which will include a Korean-American chef and performances by Broadway stars.
This marks the first state visit by a Korean president to the United States in 12 years.
BY SARAH KIM [kim.sarah@joongang.co.kr]