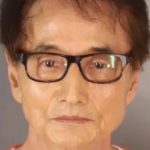 A Korean-American masseur has been arrested for allegedly sexually assaulting a client at a clinic near Riverside owned by his wife.
On April 24, the Riverside Police Department arrested Jungsik Mo (whose mug shot was released), a 67-year-old masseur at the Healing Tree Acupuncture and Wellness Center, as a suspect in a sexual assault case.
According to the police, the clinic was owned by Mo's wife, who is also believed to be the owner of Haim Healing Center in Fullerton. During their investigation, police discovered that Mo was not licensed to work as a masseur.
Mo was taken into the Robert Presley Detention Center in Riverside after his arrest, but he was later released on $75,000 bail. Riverside police suspect that there may be additional victims and are asking anyone with information to call 951-353-7136 or email Evazquez@RiversideCA.gov.
BY SUAH JANG [support@koreadaily.com]