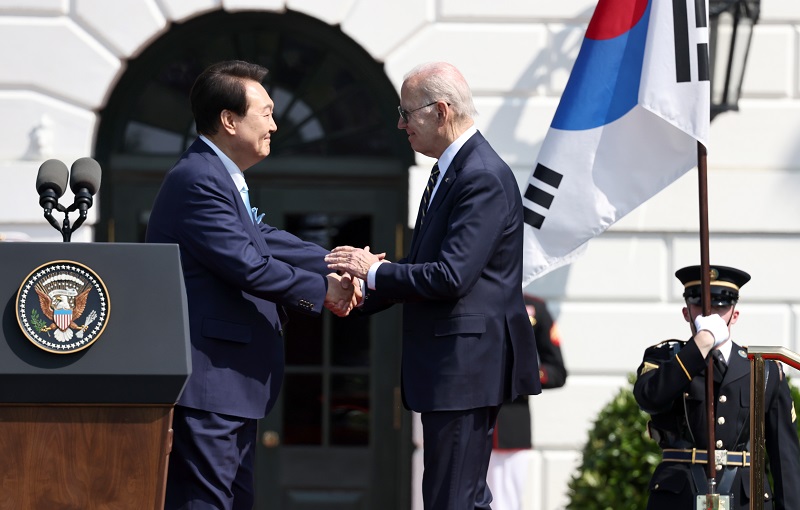 South Korean President Yoon Suk Yeol held an 80-minute summit with U.S. President Joe Biden at the White House on April 26, adopting a "Washington Declaration" that includes measures to enhance extended deterrence against North Korea's nuclear and missile threats.
Extended deterrence refers to the U.S. commitment to mobilizing all of its military capabilities, including nuclear, to defend its ally.
At the joint press conference at the White House Rose Garden after the summit, Yoon announced that "South Korea and the United States agreed to immediately hold talks between their leaders in the event of North Korea's nuclear attack, and promised to take swift, overwhelming, and decisive action using all of the alliance's military capabilities, including U.S. nuclear weapons."
During the press conference, Biden warned North Korea that "a nuclear attack against the United States, its allies, or partners is unacceptable and will result in the end of whatever regime were to take such action."
Biden said the Washington Declaration was a response to North Korea's evolving nuclear threat and was about "strengthening deterrence and response to the DPRK's escalatory behavior."
DPRK is the acronym of North Korea's official name Democratic People's Republic of Korea.
The two leaders agreed to establish a Nuclear Consultative Group (NCG) to operate the new extended deterrence system in more detail. The allies will share information on nuclear and strategic operations and planning and hold regular discussions on how to plan and execute joint operations combining South Korea's cutting-edge conventional capabilities with U.S. nuclear capabilities. The results will be reported to the two countries' leaders.
The two countries will further develop simulation exercises to prepare against a nuclear crisis and regularly and continuously deploy U.S. strategic assets to the Korean Peninsula.
Yoon said the leaders also agreed to continue cooperation to further strengthen extended deterrence.
"We, the two leaders, agreed to dramatically strengthen the two countries' extended deterrence against North Korea's nuclear and missile threats in order to achieve peace through an overwhelming superiority of strength, not a fake peace that relies on the North's goodwill," Yoon said.
Biden reaffirmed the ironclad extended deterrence commitment to South Korea.
However, the commitment will not lead to the stationing of any U.S. nuclear assets in South Korea.
"What the declaration means is that we are going to make every effort to consult with our allies when it's appropriate," Biden said.
"The bottom line here is even closer cooperation, closer consultation, and we are not going to be stationing nuclear weapons on the peninsula but we will have visits, port visits of nuclear submarines and things like that."
A U.S. administration official stated that a nuclear ballistic missile submarine (SSBN) will soon visit South Korea as part of what he called more regular deployment of U.S. strategic assets to the Korean Peninsula.
BY MOOYOUNG LEE   [support@koreadaily.com]