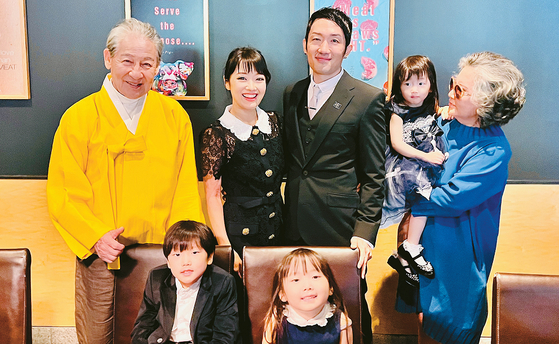 Lee Seok (83) is the 11th son of Yi Kang, Prince Imperial Ui, who is the son of Emperor Gojong of the Korean Empire. He is the eldest of Gojong's grandchildren and is currently promoting the 500-year history, traditions, and culture of the Joseon Dynasty. The lives of the descendants of the Joseon Dynasty parallel the history of the Korean Peninsula. "After the deaths of King Youngchin and Queen Lee Bang-ja, only Gojong's grandchildren are left," says Lee. "My sister, 94-year-old Ongju, lives in New York, and my two younger brothers live in Los Angeles and San Francisco. Whenever we get together once a month in Korea, we emphasize to our direct descendants the importance of knowing the history of the Joseon Dynasty as a root. I hope that the new generation in Korea will also be interested in the history of the Joseon Dynasty and realize that we are a nation of deep-rooted traditions." The following is a one-on-one interview with Mr. Lee.
-You have a strong connection to the United States, seeing that you've lived here for 10 years.
"When President Park Chung-hee died on October 26, 1979, the gendarmes of the new army kicked me out of Chilgoong Palace next to the Blue House. I said, "The royal descendants don't know how the world works, we don't know how money works, we don't know anything, how can you kick me out of my own house?" They came with guns and said, "We don't need history." I was so disappointed that I fled to Los Angeles on December 9, 1979, and went to New York City, where my sister-in-law Lee Hae-kyung (who immigrated to the U.S. in 1956) and Ong-ju lived. I fled from my own country to the U.S. and lived six months in Kodiak, Alaska, and nine years in Los Angeles."
-What was life like in LA.
"I was 41 years old, working 16-hour days. I'd get up at the crack of dawn in the morning to mow other people's lawns, and at lunch I'd clean pools in rich Beverly Hills neighborhoods, clean buildings, guard supermarkets, and that's how I made about $100,000, which I took out a loan for and opened a liquor store in Inglewood. I was robbed 13 times by blacks alone. If I had stayed until the L.A. riots (April 29, 1992), I would have died (running the store). I left to Korea in 1989 for the funeral of my aunt, Deok Hye Ongju."
-How does it feel to be back in LA?
"I spent my first night back in LA at the Oxford Hotel in Koreatown, and I feel so proud and honored that there are more Koreans here than when I was here, and that it has improved so much."
– Is there a particular reason you're making so many donations after naming Andrew Lee as your successor?
"Andrew Lee is a descendant of Taejo Lee Seong-gye Family. I met him in 2016, and he's very successful. I don't have the power to revive the ancestry. he's still so young, so he motivates me. I made a promise to him, similar to an inheritance, and I ordered him to put that to use (such as imperial succession)."
– What does Andrew Lee think of the activities you are pursuing?
"In many ways, I'm doing what I've always wanted to do, because the history of Korea (the Joseon Dynasty) is disappearing, and I want to let people know of our dynasty, of how our country is a country with deep roots and traditions. And for that, there has to be a pioneer. I want someone to step up and make sure that history and tradition don't disappear."
-What's the weight of being the last grandson of Gojong like?
"I am the 11th son of Prince Imperial Ui, the second son of Emperor Gojong. I'm the oldest prince of the Joseon dynasty, and as the eldest imperial descendant, I'd like to see Korea reunified, and I'd like to see a president who is good at politics, and a 'king' who has a sense of history and can lead the people's spirit, even if it's symbolic."
-Joseon Dynasty is long gone.
"The biggest cause is President Syngman Rhee. He was the first president of South Korea, and he should have brought his father, King Youngchin. But if a king comes back, the nation wouldn't want anything to do with a president. Back then, the country had no idea what a 'president' even was. So when Syngman Rhee became the first president, he didn't let his father come. And then in 1963, President Park Chung-hee brought him back, and that's how we were connected, but then he died and it ended."
-How do you feel about the experience?
"It's sad, it's a little bit…history is so…and the new generation doesn't need history, they don't teach it very well…the royal family never did anything wrong, no dynasty has ever lasted more than 500 years. We have a ceremony once a year in Jongmyo and a ceremony once a month in Jeonju."
-What would you like to emphasize to the Korean community?
"I'm very happy to meet you. As soon as I got off the plane in LA, I got teary-eyed looking at the Koreans here. I don't know why I got teary-eyed. The Korean people have suffered so much. I want to let everyone know that we are the same, that we are united and that Korea is the best country in the world. Stay healthy."
BY KIM HYUNGJAE [support@koreadaily.com]