YG Entertainment, one of Korea's biggest entertainment agencies, is celebrating its 20th anniversary. The company started out from modest beginnings, operating out of a basement near Hongik University in 1996. The man responsible for transforming the agency into one of the biggest in Korea, producer and chief executive officer Yang Hyun-suk, 47, sat down with the JoongAng Ilbo for an interview to discuss the YG business model at his company headquarters in Hapjeong-dong, western Seoul on Sept. 21.
The agency not only houses internationally renowned acts such as BigBang and Psy, but also award-winning actors such as Gang Dong-won, Cha Seung-won, and Lee Jong-suk, and has branched out into other areas of entertainment by recruiting comedians and models as well. The company is even venturing out into other industries including cosmetics, food and fashion.
Having debuted in 1992 as a dancer in hip-hop trio Seo Taiji and the Boys, Yang is now leading one of the nation's most recognizable entertainment companies. There are two titles on his business card: CEO and Producer. "Call me CEO only when I'm in the office," he said. "I get uncomfortable being called that when I'm outside. You can even call me by name if you'd like. I just want you to be comfortable." Yang set the mood with this opening statement for the two and a half hour long interview.
Q: This year marks the 20th year since the founding of the company.
A: I've been working like a swan the entire time. I remain elegant when seen above water, but underneath I paddled very diligently. YG has continued to grow without ever slipping. I don't have the need for the company to grow twice as big by next year. I prefer growing the company at a slow and steady pace rather than taking big risks. We originally started as "YG Family," but now we have over 400 employees in the company. When including people from our other ventures such as YG Foods, that would make it nearly 1,000. I think it's about time to think of a new term that will include everyone.
What's the secret to your company's growth?
Upgrading. I led YG up to this point based on my own boredom of monotony. When girl groups such as Fin.K.L and S.E.S. were popular, we unveiled the vocal group Big Mama. Even BigBang's debut was highly controversial at the time. They asked if I needed to get my eyes checked when I called them our new idol group. It's the same case with BlackPink's current popularity. Doesn't it feel different seeing a pretty girl group singing YG style songs? Originality is YG's competitive edge.
Your push for business diversification is interesting.
The cosmetics, food, and fashion industries are not much of a stretch from the contents that we currently produce. When our artists go up on stage, they need both clothes and make-up. Kanye West has his own fashion line. These are all necessities required for the artist to succeed. Not going through with these businesses would be foolish.
This year also marks the tenth year since BigBang's debut.
We've done about half of what we set out to accomplish with BigBang. I wanted to make a long-lasting group, so having them perform on stage for ten years was one of the primary objectives. At the time of their debut, the average lifespan of a male idol group was three to five years. When I saw the recently reunited boy band Sechs Kies in concert, it made me think about BigBang's future as well. It made me believe that BigBang can definitely last another ten years.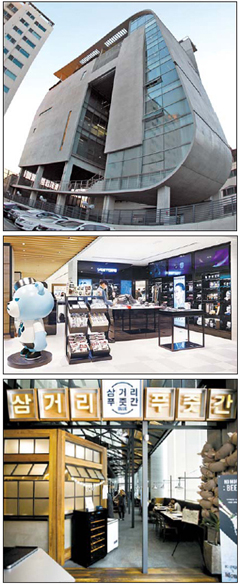 There are concerns regarding the two year mandatory military service for the members of BigBang.
Their military service does not concern me at all. Last year's internationally renowned album "MADE" was a result of three years of hard work as well. If BigBang was a group that could be forgotten so easily, then perhaps their military service would be of concern to me, but they are not like that at all. Their talent will not disappear when they come back from their service. I predict that the members will come back more mature and will be ready to make music befitting that maturity.
As a CEO, what is your leadership style?
No touching. I recently told the artist-turned-producer Yoo Hee-yeol to never interfere with the artist's music. Only help them ask questions. I don't think there is any value in messing with an artist's emotions. We are completely different, from the generation gap to the environment that we were brought up in. The resulting music produced will undoubtedly be different too. In the case of BigBang, the amount that I involve myself in with their affairs would be at around 10 percent. My role is to simply care for these artists and provide wisdom with my 20 plus years of experience.
Referring to your experience, do you have any advice to give to the music industry?
The ranking system of music programs needs to change. Compared to my days in Seo Taiji and the Boys in 1992, the quality of these programs has remained the same, but the way the artists are being treated has gotten worse. The networks are not investing in better stages or production. It's only a program to train singers and their agencies. This is the reason why our artists only appear on one music program per week. I also think that songwriters need a bigger share of sales. The current system is dominated by content owners and distributors. It's even more difficult for artists that promote primarily domestically. In order for better artists to be born, there needs to be a change.
 Some fans have voiced complaints from the lack of television appearances.
If music ranking programs made it even remotely possible for our artists to become more popular, I would personally go and beg on my knees to have them appear. We are thinking of alternate ways to satisfy the fans' demands. After a year of preparations, we are planning on announcing our idea soon.
 What qualities do you look for when scouting for new talent?
Whereas J.Y. Park of JYP Entertainment places a person's good-hearted nature as the most important quality, I am the opposite. I list the qualities that I look for from most to least important as talent, willpower, and then good-nature.
The idol industry has also lasted for 20 years.
The idol system is still evolving. In terms of being able to produce idols from an industry standard perspective, no other nation can do it like we can. [Twenty years] greatly contributed to the creation of popular Korean content consumed internationally.
BY HAN EUN-HWA [chung.jinhong@joongang.co.kr]