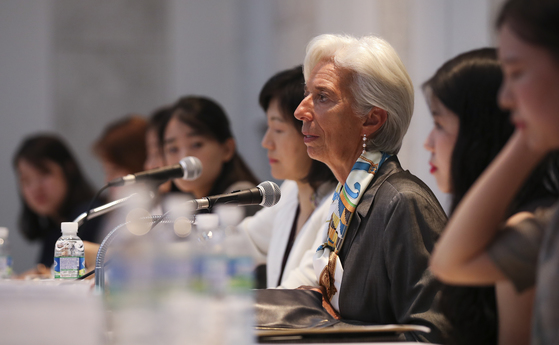 The International Monetary Fund's Managing Director Christine Lagarde commented that South Korean society is going toward a "collective suicide," according to IMF's Asia and Pacific Department Director Chang Yong Rhee, who accompanied Lagarde.
The IMF chief expressed concerns about Korea's growing social problem after a speech she had at Ihwa Womans University in Seoul, on September 7. In addition to a keynote speech, Lagarde also had a conversation session with 8 students and 150 who attended as audiences. Legarde and Korean students shared thoughts about "the future of Korean education system and the role of women."
About the event, Rhee commented that "everyone almost cried" as they shared worries about future.
"I won't get married," one of the students said. "If anyone asks me why, I studied from 5 am to 2 am to be accepted to Ihaw Womans University. When I finally came here and started to think about my bright future, however, it wasn't what I've imagined. Alumni told me that even if they've got a great position at renowned corporations, they have to quit as soon as they get pregnant. It seems like there is no future. I can see the glass ceiling more vividly than ever."
Another student commented, "it's a cement ceiling, not a glass ceiling." Some of them even said they won't be like their mothers.
Lagarde, IMF's first female chief, dissuaded them, emphasizing that "women need to be more independent and powerful."
According to Rhee, Lagarde expressed further concerns about the future of Korean society.
"If the birth rate keeps decreasing it will decrease the nation's growth rate and productivity as well, which will eventually result in a serious aggravation of financial condition," Lagarde said reportedly. "Such vicious circle is like a collective suicide."
"'Collective suicide' is not a technical term," said Rhee. "but it's how Lagarde described what she felt about Korea's social phenomenon."
"Korean government has to manage national finance wisely, to establish social safety net so that women can participate in the labor market more actively," Lagarde said further.
Original article by Kim Hyun-ki