It's the best season to enjoy a cup of hot tea. Hot teas are good enough to warm your body and fight fatigue, but adding a few drops of alcoholic beverages sometimes prevents you from catching a cold and makes you feel far more cheerful. If you need some cheer to live through the cold weather, how about trying these hot cocktails at home? Not only do they taste amazing, but they also are good for health. (Well, of course when you add the right amount alcohol.)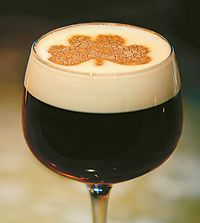 1. Irish Coffee
Irish coffee was first served at Dublin Airport in Ireland to help travelers feeling warmer instantly. Simply add some whiskey in your hot americano.
2. Hot Toddy
Hot Toddy is a mixed drink of honey tea and whiskey. Minerals in honey is known as a booster of immune system. Bring the mixture of water, honey, lemon, cinnamon, nutmeg, and pear to a boil. Add whiskey – amount of whiskey should be about a quarter of tea.
3. Hot Buttered Rum
Made first in Italy, hot buttered rum is known to fight against cold when you start feeling chills. Warm milk or water without boiling. Add rum, sugar, and a slice of butter into the warm drink and mix well with a cinnamon stick. You may replace water with cider to add spiciness of your drink.
4. Royal Milktea
Cognac goes well with black tea or hot chocolate. Brew any kind of black tea in a warm milk, add a quarter of cognac and some syrup to add sweetness.
5. Tom and Jerry
'Tom and Jerry' is a famous cocktail in the South that tastes like eggnog. Separate an egg and beat the egg yolk with two Tbsp of sugar. Beat the egg white in a separate bowl and put the foam on the top of egg yolk. Pour the mixture in a mug, add some rum, and fill the mug with water.
Original document available from http://www.koreadaily.com/news/read.asp?page=1&branch=NEWS&source=&category=lifenleisure.general&art_id=3977775
Translated by Heewon Kim