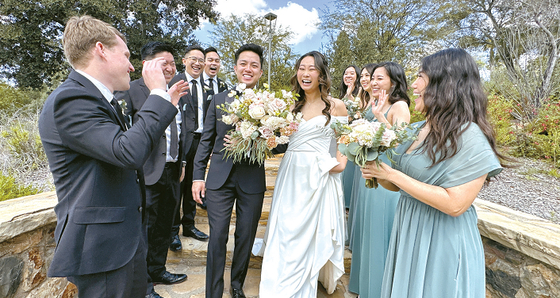 With high inflation pushing up prices everywhere, the cost of weddings has also risen significantly this year.
According to the Korean-American wedding industry in Los Angeles, the average budget for couples getting married this year is $50,000, up nearly 43% from $35,000 before the pandemic.
The Korean-American wedding industry explains that the demand for wedding-related services, such as wedding venues, photographers, wedding planners, and florists, has skyrocketed due to the rush of weddings that were postponed due to the pandemic last year. The cost of weddings has also risen significantly due to inflation and higher wages.
"With inflation at more than 40%, it's no wonder that the cost of weddings, which mostly consists of service costs, is higher than it was before the pandemic," said an industry insider.
"A $30,000 budget would be considered a small wedding of 50-100 guests in L.A. Wedding dress rental, photography, and videography alone can cost well over $10,000," he added.
According to the wedding dress industry, the cost of renting a dress ranges from $1,000 to $3,000, including alterations and accessories.
Breaking down the cost of a wedding, excluding the honeymoon, the highest labor costs are for the wedding dress (purchased or rented), hair and makeup, reception venue, live band, photographer, florist, and videographer.
In the aftermath of the recession, the demand for Pyebaek (Korean traditional wedding greetings) has unexpectedly increased due to couples preferring smaller weddings and opting to skip the festivities.
The popularity of Pyebaek has led to an increase in demand for out-of-state rental packages from Hanbok specialists in L.A. Koreatown.
Wedding trends are also changing rapidly as the age of weddings shifts from Millennials to Gen Z.
Practical-minded Gen Zs aren't afraid to skip the traditional ceremony and instead just take photo shoots and wear casual or vintage dresses. The industry is also adapting to this new wedding culture.
Laura Park, CEO of LeeHwa Wedding and Korean Traditional Dress, said, "80% of our customers are Korean or of other ethnicities, and the age group is shifting to Generation Z.
Photo packages, including a choice of wedding dress or hanbok, bridal hair and makeup, and photo shoots, are popular." Photo packages in town range from $1,800 to $2,500.
With the increase in the number of couples looking to save on wedding costs, there has also been a rise in banquet room bookings at L.A. Koreatown hotels. According to The Knot, the average cost of a banquet hall is over $10,000.
In comparison, the rental fee for a banquet hall in Koreatown is $4,000 for 4 hours for a hall with a capacity of 100 to 200 people. If you include other services such as chairs and covers, it's around $5,500.
Jason Kim, general manager of Oxford Palace Hotel, said, "This year, many couples are preparing for their weddings on a budget, and in response, we are providing customer-centered services by reducing the burden of hotel fees, adding free services, and launching an in-house catering service."
Online wedding planning site Zola surveyed 4,000 couples getting married this year and found that New York was the most expensive city in the country for weddings, costing $43,536.
The following cities are San Francisco-Oakland-San Jose ($37,284), Boston ($35,902), Philadelphia ($34,111), Miami-Fort Lauderdale ($36,622), Washington, D.C. ($31,199), and Chicago ($32,281).
BY EUNYOUNG LEE  [support@koreadaily.com]