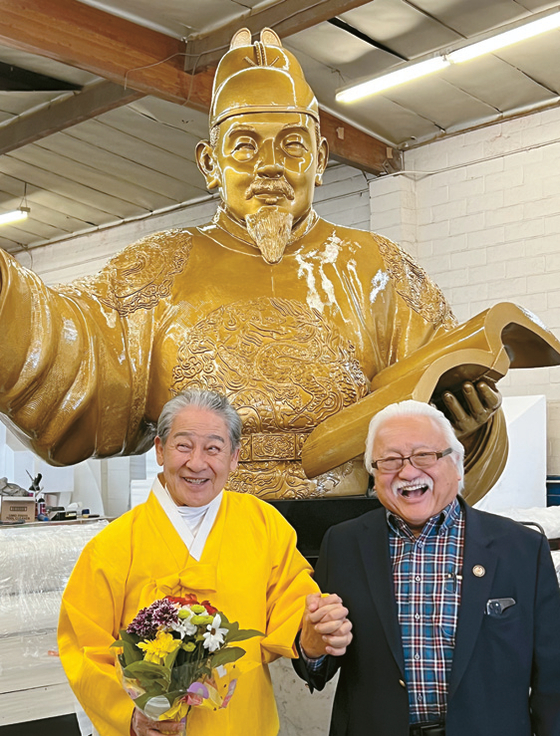 For Koreans, the creation of Hangul and the legacy of King Sejong the Great hold significant places in their cultural identity. This is because King Sejong is revered as the founder and developer of Hangul, the Korean alphabet still in use today.
Hangul Day, observed on October 9, will be marked with special events throughout Los Angeles.
At 11 a.m. on October 5, a statue of King Sejong will be unveiled at Jefferson Hall on the campus of Los Angeles City College (LACC). This marks the first instance of a King Sejong statue being erected on a public university campus in the U.S.
LACC intends to familiarize its students, faculty, and staff with King Sejong, the creator of the Korean alphabet. Currently, LACC's Korean language class boasts over 1,000 students, underscoring its position as a hub for Korean language education in the U.S.
Anticipated attendees of the unveiling ceremony include LACCD Chancellor Francisco C. Rodriguez, LACC President Dr. Amanuel Gebru, LA Consul General Youngwan Kim, Prince Imperial Lee Seok (son of Emperor Gojong of Korea), and Andrew Lee (adopted son of Lee Seok).
The King Sejong statue was realized due to a generous donation made to LACC on April 26, 2022, by both Lee Seok and Andrew Lee. Andrew Lee, a second-generation Korean American businessman leading the Imperial Family Company, is acknowledged as the adopted son and heir of Lee Seok. At the time, Lee Seok, also heading the Imperial Cultural Foundation of Korea, collaborated with LACC, donating $100,000 to bolster Korean language programs and commission the statue.
Mickey Hong, Director of the Korean Studies Program at LACC, stated, "This is the first time that a statue of King Sejong, one of Korea's most pivotal figures, will stand in a U.S. educational institution. The $100,000 contribution from Andrew Lee and Lee Seok is earmarked for scholarships and cultural programs benefiting the 1,000 students studying Korean at LACC. A statue of King Sejong the Great is bound to amplify interest in the Korean language and culture."
On October 6 at 10 a.m., the Los Angeles City Council will hold a ceremony to officially designate October 9 as Hangul Day.
As informed by the office of Councilmember John Lee (12th District), who tabled the resolution, the City of Los Angeles will formally recognize October 9 as Hangul Day, a tradition that will be upheld annually henceforth.
"I am deeply gratified that the Los Angeles City Council has endorsed the Hangul Day resolution," remarked Consul General Kim during the proclamation's announcement. "I am eager to showcase the elegance of Hangul and Korean culture to a broader audience through this proclamation, certain that it will fortify the amicable ties between the U.S. and Korea."
On September 7, a day following the City Council's proclamation, the Korean Language Promotion Foundation will organize an event at Madang Mall in LA Koreatown. Tailored for toddlers aged two to three from various ethnic backgrounds, as well as English-speaking children, the event, running from 1:00 p.m. to 4:00 p.m., offers an opportunity for participants to have their English names scripted in Hangul by skilled calligraphers.
"We curated this event to introduce Hangul to individuals from diverse ethnicities," shared Monica Ryu, director of the foundation. "Our aspiration is for attendees to appreciate the aesthetics and utility of Hangul as they see their names artistically penned in the script."
BY NICOLE CHANG, HYOUNGJAE KIM     [chang.nicole@koreadaily.com, kim.ian@koreadaily.com]