Spice up your New Year's meal by adding one Korean food that is offered during this traditional celebration. Like other Asian countries, South Korea celebrates the Lunar New Year on February 7th. As time goes by, there have been changes to traditional meals. People have created variations for those dishes. However, there are four foods that haven't changed much over the years.
Above all else, the most popular traditional dish is Rice Cake Soup (Tteokguk). To non-Koreans, it may look like broth with thinly-sliced rice cake,julienned eggs, spring onions and seaweed. However, its meaning is that Korean New Year's Day is also one's birthday. Therefore, when one eats the soup, one is a year older. By serving it for breakfast, relatives can ask one how many bowls of soup one has had, as a way of asking one's age.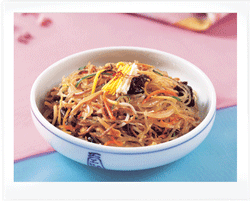 It won't be a Korean meal without noodles. Stir-fried Glass Noodles (Japchae) are usually made as a side dish, but on New Year's Day, it is more likely to be served as an entree. To put into simple words, Japchae is sweet potato noodles with vegetables; however, the process is not as easy. Noodles represent long life and long happiness, which is why it is served at special occasions to wish each other a safe year.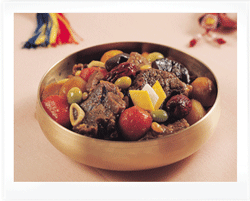 Many hands will reach for the Korean Beef Short Rib Stew (Galbi-jjim) because no one can resist the flavorful and steamed meat. It is a traditional cuisine to be put out especially for New Year's because it is made with the center part of a rib; this particular area of meat is expensive, so it is seen as a high-class dish.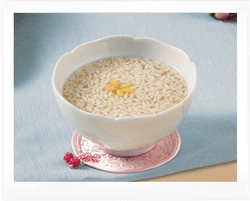 Last but not least, try Sweet Rice Drink (Sikhye), which is made from cooked rice and barley-malt powder. Although its traditional use is as a refreshing dessert for holiday celebrations, people now ask for it as a way to relieve their hangovers and to facilitate digestion. Most Korean restaurants ask their customers if they want Sikhye, so do not pass up the opportunity to take a sip!
There are many more traditional dishes that can be included in a Korean New Year's meal, but these four are seen as the core. Visit a restaurant, or cook your own Tteokguk, Japchae, Galbi-jjim and Sikhye.
By Eunice Kim