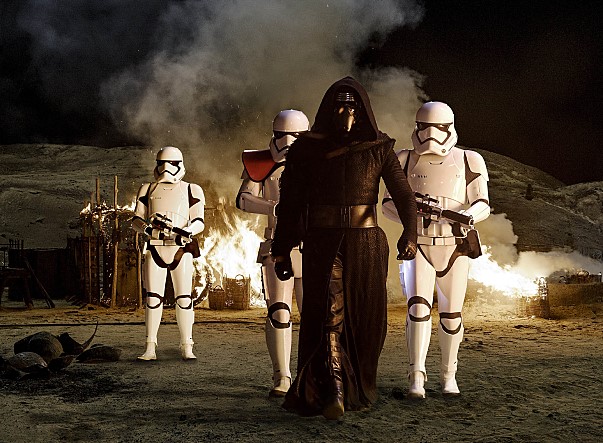 The seventh installment of the "Star Wars" franchise is still making headlines worldwide even a month after it was released in December.
In North America, the homeland of this nearly 40-year-old space opera, "Star Wars: The Force Awakens" has dominated the box office for four straight weeks, beating out able competitors like Golden Globe-winning "The Revenant."
The laudable achievements of this 135-minute sci-fi flick doesn't stop here. It became the highest-grossing film of all time in North America and reached third in the global box office after "Avatar" and "Titanic."
In China, where none of the previous films have been released, it enjoyed a record-breaking opening Jan. 9 with $53 million in sales that weekend.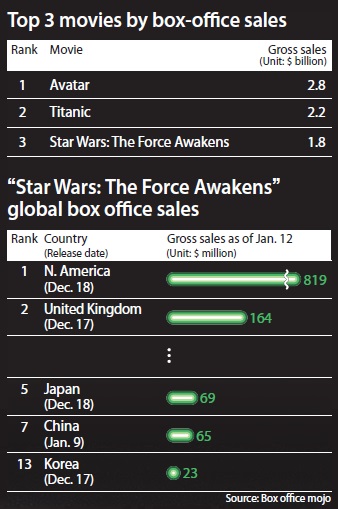 But Korea seems to defying this trend. Here "Star Wars: The Force Awakens" never made it to No. 1 at the box office, not even once.
Despite promotional events including a Seoul visit by director J.J. Abrams and the new cast, the space saga was outperformed by Lee Seok-hoon's reality-based adventure film "The Himalayas" and Park Jung-hoon's historical drama "The Tiger," both of which were released on the same day.
Debuting in second place and sliding down the chart ever since, the film is now in 10th place, and there seems to be no hope for Walt Disney in what was initially anticipated as Asia's third-biggest market for the movie.
Fantastic story
In recent years, films from abroad that were not necessarily blockbusters have become surprise hits in Korea, such as last year's "Mad Max: Fury Road" and "Whiplash," both of which gathered the highest box-office sales in Korea after North America.
And it was rare for a film that caused international hype to fail to work its magic in Korea.
Critics point to the movie's futuristic genre – sci-fi and fantasy – and its imaginative story as the main reasons for its lackluster performance here.
"Korean moviegoers perceived the film as fantasy, which is one of the unpopular genres," said film critic and columnist Kang Yoo-jung.
"If the film's plot doesn't have a point of contact with reality, people consider it as a film for children, which is why films like the 'Hunger Games' series and 'Maze Runner' were relatively unpopular in Korea," she added.
Of course, films like "Mad Max: Fury Road" and "Kingsman: The Secret Service," which enjoyed wild popularity here, are far from down-to-earth.
However, for those movies what attracted the Korean audience was their socially conscious message, related to feminism in the former case and societal hierarchy in the latter. A social underdog qualifying to join an elite spy team in "Kingsman" generated much sympathy from Korean young people struggling with a tough job market and endless competition.
"Star Wars," on the other hand, was lacking such a resonant theme. "The simple structure of good versus the evil wasn't appealing to Korean moviegoers," Kang said.
Another film critic, Jeong Ji-ouk, noted that the sci-fi movie "Interstellar" was an exceptional case and gained popularity in Korea for featuring "educational information and family drama that centered on a father-daughter relationship."
"If a film doesn't have a sentimental element, Koreans find it hard to sympathize with the story," he added.
Missed target
In Korea, the leading audience stratum is women in their 20s.
In the case of "Veteran," which broke the record last year with 13 million tickets sold, women accounted for 59 percent of attendees and 20-somethings accounted for 40 percent, the most of any age range, according to CGV Research Center, the think tank arm of the country's largest theater chain.
Last year's runner-up "Assassination" was enjoyed by 12 million moviegoers, of which 60 percent were women. People in their 20s also made up a dominant proportion of the audience.
But for "Star Wars," males accounted for 53.6 percent of total ticket admissions so far while people in their 40s accounted for the highest proportion with 37 percent.
In other words, "Star Wars: The Force Awakens" couldn't resonate with series newcomers, especially women, who are the driving force at the box office.
"I felt like I needed to master the six previous installments before I go to see this one and once I started to search it online, the story seemed pretty extensive," said Rim So-young, a 26-year-old female student living in Seoul.
But Gang Dong-joo, a 28-year-old male graduate student who hasn't seen a single episode, said the retro vibe of elements such as the stormtroopers' armor and lightsabers made him interested in watching the previous installments. "The story itself may be new to me, but the collectible toys and figures lured me to the franchise."
Film critic Jeong explained that "Star Wars" is a major movie brand itself but its merchandise market cannot be ignored.
"'The Force Awakens' may not have attracted the younger viewers as a film, but it seemed to appeal to male consumers with its symbolic items and character products, which lead to ticket sales at the box office," he said.
BY JIN EUN-SOO [jin.eunsoo@joongang.co.kr]