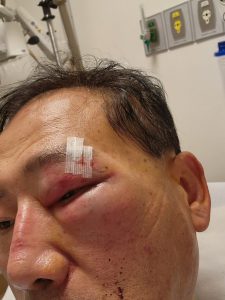 A Korean man in his 60s was assaulted by an assailant inside a Chase bank in Gardena.
Yong-woo Chung, 64, was assaulted by a black male assailant at a Chase branch on Artesia Blvd. at around 11:45 a.m. on April 21, severely injuring his left eye (pictured).
The suspect reportedly fled after assaulting Chung but was apprehended nearby by the police.
Chung, who runs his own business, dropped by the bank that day to make a cash deposit. Suddenly, an assailant burst into the bank and went on a rampage, yelling and throwing water bottles. There were about 10 customers and employees inside the bank at the time.
The assailant approached Chung, who was standing in line at the teller counter, and punched him in the face, knocking him to the ground.
"What's shocking is that there were no security guards in the bank at the time, and no one was there to stop him," says Chung. "The employees were busy taking cover and avoiding the scene while the customers were still at risk."
Chung was rushed to Harbor-UCLA Hospital in an ambulance that arrived shortly afterward, where he was treated for his injuries. However, he said his vision in his left eye has rapidly deteriorated, and he is now unable to drive.
"Three days later, on Monday, a bank employee contacted me and said, 'We're sorry we couldn't keep you safe. If there's anything we can do to help, please let us know,'" he said. "They had security guards in the bank the next day I went in."
"I'm very disappointed that this happened to me at a bank that is supposed to take customer safety seriously," he said. "If it had been a robbery instead, the damage would have been much worse. Just the thought of it scares me."
According to the Gardena Police Department, the suspect was arrested near the scene and underwent a mental health evaluation.
The Korea Daily made multiple attempts to reach the bank for comment on Wednesday but was unsuccessful.
Meanwhile, banking regulations set forth by the Code of Federal Regulations require banks to provide and maintain sufficient alarm systems and security cameras. They must also provide enough security personnel to protect customers and employees against robberies and thefts.
Section 3 of the Bank Protection Act, a federal law enacted in 1968, also requires banks to have adequate security procedures to prevent robberies and thefts and to assist in the identification and prosecution of suspects.
BY SUAH JANG [support@koreadaily.com]