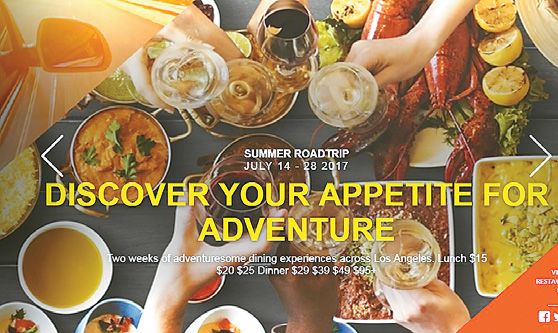 DineLA Restaurant Week, which has started on July 14, is ending this Friday, July 28. For the two weeks of the event, visitors can enjoy special lunch or dinner course meals for discounted price at participating restaurants around Los Angeles.
In Koreatown, six restaurants participate, including The Venue, Commissary, The Backhouse, EMC Seafood & Raw Bar, Ca Brea, and M Grill. The increased number of participating restaurants and their varying genres allow more options to choose from.
The only restaurant to serve Korean food for this summer's Restaurant Week is Hanjip, the Korean bbq restaurant located in Culver City. Their special all-you-can-eat Korean bbq is offered at $15 for lunch and $29 for dinner.
While the number of participating businesses in Koreatown increased significantly this year, the number of Korean restaurants has been decreasing over the past few years. Compared to 4-5 businesses in 2010, Korean cuisine is barely continuing its participation.
"The City sends us notifications about the event every year, but we don't have any plan as of now," said a representative from Yongsusan, a Korean restaurant which had participated the Restaurant Week event in the past. "Because the outcome was not so satisfactory, regarding what we had done."
To find more about the event, visit dineLA website.
Original article by Kim Ji-young
Translated by Heewon Kim