Entering Gwang Yang BBQ, you can find a long table spacious enough to fit 12 people. Not quite as expected, this table is not for a big party, but for solo diners.
More and more restaurants in K-Town are adopting communal tables. Including Gwang Yang BBQ, Hansol Noodle, Quarters Korean BBQ, Slurpin' Ramen Bar, Document Coffee, and CottonHi have communal tables for individual visitors.
Employing a communal table is a win-win for customers and restaurant owner. While restaurant owners are satisfied that space is not wasted, customers who come alone or in small groups find it more accessible because of shortened wait times.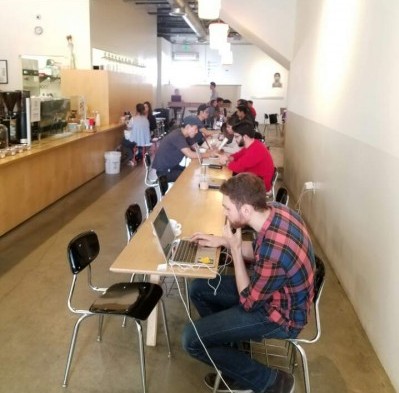 Communal table is popular especially in restaurants targeting younger customers. At Quarters Korean BBQ, communal table is used as a waiting place. Every table in Slurpin' are communal.
Document Coffee, too, located a long communal table across the place. Since many customers visit coffee shops to study or spend time on their laptops, Document's strategy is well-played.
If you're not as accustomed to dining alone, visit K-Town and find a seat at the communal table!
Original document available from www.koreadaily.com/news/read.asp?art_id=4217675
Translated and edited by Heewon Kim