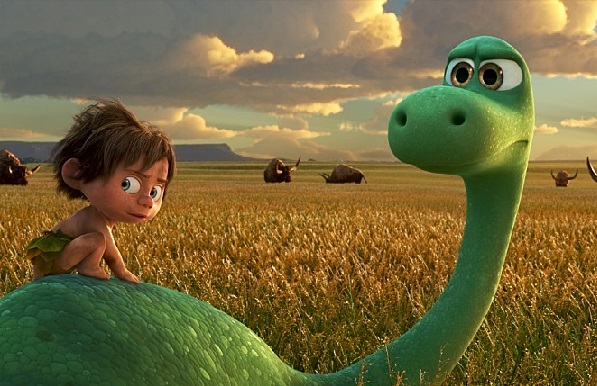 Disney-Pixar's 16th feature, "The Good Dinosaur," came in first place at the Korean box office on its opening weekend, while local human drama "The Himalaya" managed to surpass the 7 million admissions mark.
The heartwarming adventure of a dinosaur named Arlo and an orphaned cave boy named Spot attracted 458,813 moviegoers, earning 3.5 billion won ($2.9 million) over the slow weekend.
Touting what Disney-Pixar does best, "The Good Dinosaur," the directorial feature debut for Korean-American filmmaker Peter Sohn, presents a visual feast as the two main characters try to return to their lost homes and families.
"The Himalayas," the true story of famed Korean mountaineer Um Hong-gil, played by Hwang Jung-min, picked up another 374,939 moviegoers to come in third place and bring its four-week total to 7 million admissions. So far it has earned 55 billion won.
"Remember You," a romance film starring Jung Woo-sung and Kim Ha-neul, debuted in fourth with 374,939 tickets sold, which roughly translates to 1.9 billion won.
Directed by rookie filmmaker Lee Yoon-jeong and produced by Jung, the sentimental film follows a man named Seok-won as he recovers from major memory loss with the help of a strange woman named Jin-young (Kim).
The remake of the adrenaline-packed crime thriller "Point Break," directed by Ericson Core, saw an audience of 152,866 in its opening week, making 1.2 billion won.
Meanwhile, an uncut version of "Inside Men," titled "Inside Men: The Original," remained in second place, adding 384,477 attendees to its two-week total of 1.5 million. The original version, on the other hand, has been seen by 7 million viewers so far.
KOREA BOX OFFICE
1. The Good Dinosaur
2. Inside Men: The Original
3. The Himalayas
BY JIN EUN-SOO [jin.eunsoo@joongang.co.kr]