Myeongdong, Seoul is heaven for street food lovers. From Tteokbokki to fried crab, there is every street food you can imagine. With so many foreign visitors making street food tasting as a must do in Myeongdong, street food is now a unique culture found here. There are about 200 street stalls in Myeongdong and half of them are providing street food.
Most of the street food stalls are located on the street between Myeongdong subway station exit 6 and Noon Square. Don't forget to go with an empty stomach when visiting Myeongdong!
Fried Calamari
Half-dried calamari is fried as a whole, making a fried calamari that is bigger than your face. Seasoned like fried chicken, this street food has a unique taste that is a combination of fried chicken and calamari. Fried shrimps, served in a paper cup with five shrimps, is another popular menu sold along with fried calamari.
Smoked Duck and Veggie Roll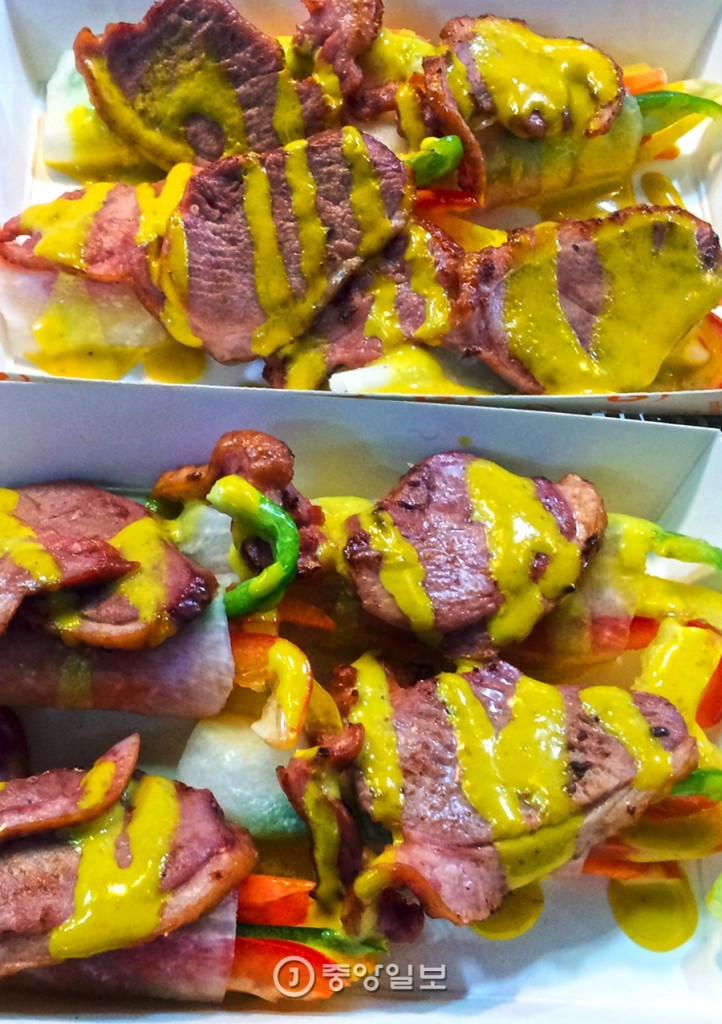 Smoked duck meat and vegetables are rolled with sweet and sour radish. Served with mustard, this colorful duck roll refreshes your mouth. These four bite-size rolls also keeps you from messiness on the street. Different kinds of Jeons, such as Kimchi-Jeon or corn and onion-Jeon, also are served here.
Fried rice with Chicken wing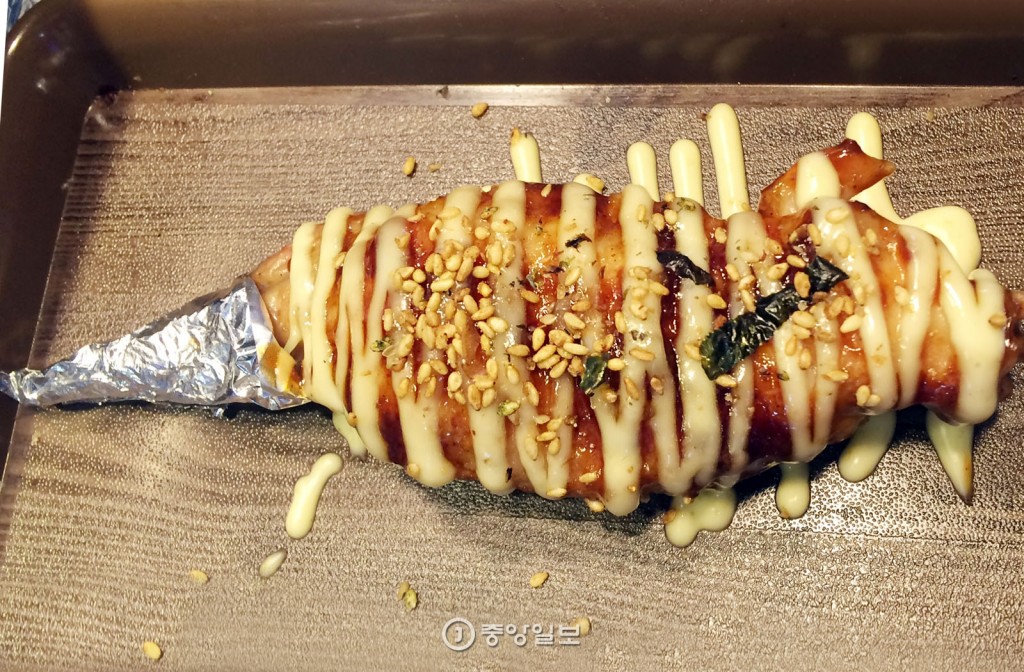 A famous Taiwanese street food now has landed on Myeongdong. Looking like barbequed chicken wing on the outside, the wing is filled with fried rice inside. You can choose the stuffing among Bulgogi, Kimchi, and curry.
Fire pot pizza roll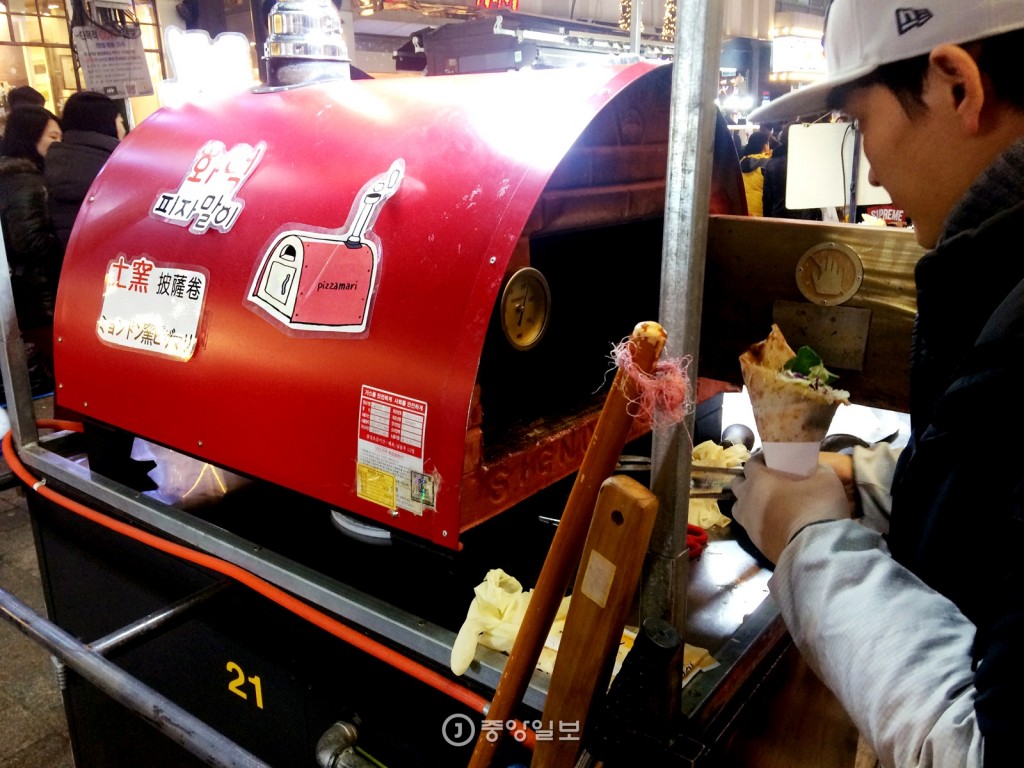 If you find a fire pot on the street out of nowhere, be ready to taste delicious pizza rolls cooked thoroughly in it. After five minutes in the fire pot, your choice of pizza is served rolled in a paper cup. Bulgogi pizza is the most popular menu.
Skewered Chicken
Oven-cooked chicken is served skewered with green onion. You can choose from salted and spicy. You can also choose the degree of spiciness if your taste buds are not accustomed to spicy food.
Baked Cheese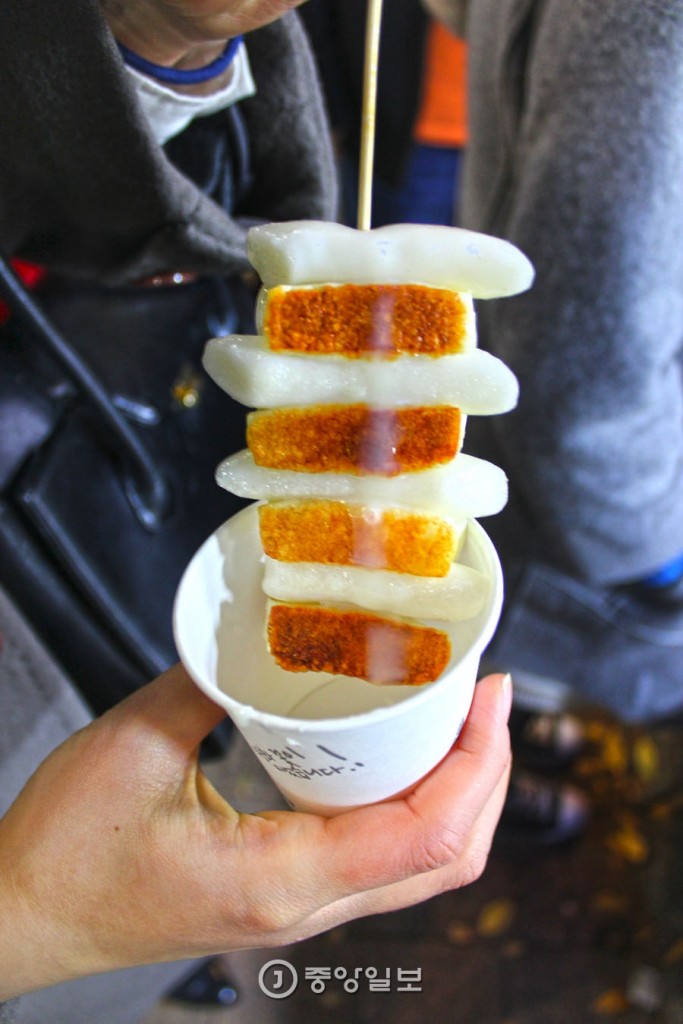 Bite-size pieces of cheese and Tteok are skewered and fried upon your order. Condensed milk will add sweetness on your chewy combination of baked cheese and Tteok.
Skewered Seafood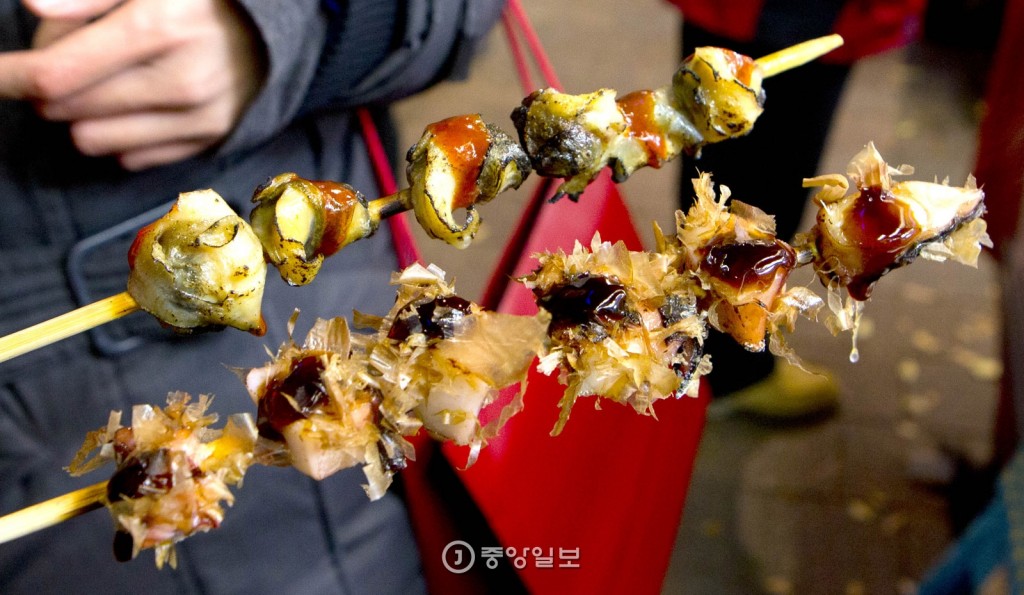 Different seafood, such as octopus and conch, are skewered and fried with cheese or Teriyaki sauce. You may also choose pepper paste to add spiciness on your seafood.
Pork belly Veggie Roll
Bean sprouts, onion, carrot, and other vegetables are rolled in a thinly-cut pork belly and cooked on iron plate. Transparently thin slice of pork belly and the mixture of different vegetables fills your mouth. You may also add cheese on the top.
Yakisoba
You can find this famous Japanese street food on Myeongdong street. There are two or three stalls serving Yakisoba, and each place uses different sauces and combination. Yakisoba with thinly sliced pork belly and spicy sauce is popular.
Fruits cup
Fruits cup is one of the most popular items among Myeongdong street food, as there are about seven stalls selling fruits cups. The most popular fruits are strawberry and pomegranate. You can also enjoy pomegranate as a juice. Fruits cup may refresh your mouth after a street food rush.
Grilled Naengmyeon
Grilled Naengmyeon, which resembles Yakisoba, has recently been created in Busan. Naengmyeon noodles are grilled with egg and tomato sauce, pepper, onion, cheese, and sausage are added on the top of it. As you may imagined out of ingredients, this grilled Naengmyeon tastes like pizza.
Grilled Tteokgalbi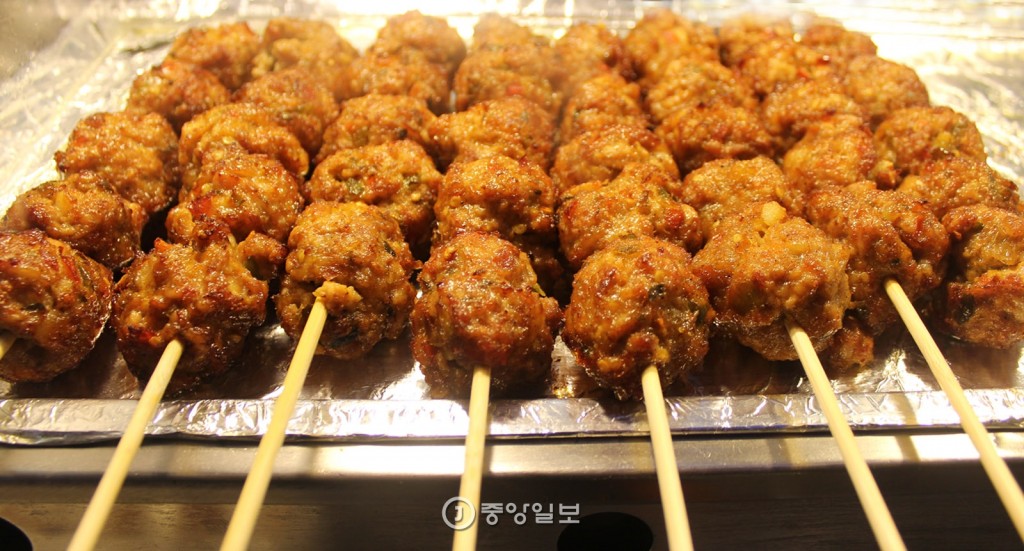 On Myeongdong street, Tteokgalbi is shaped as a bite-size meatball so that you can enjoy on the street. You can enjoy your Tteokgalbi either spicy or non-spicy.
Spicy Jokbal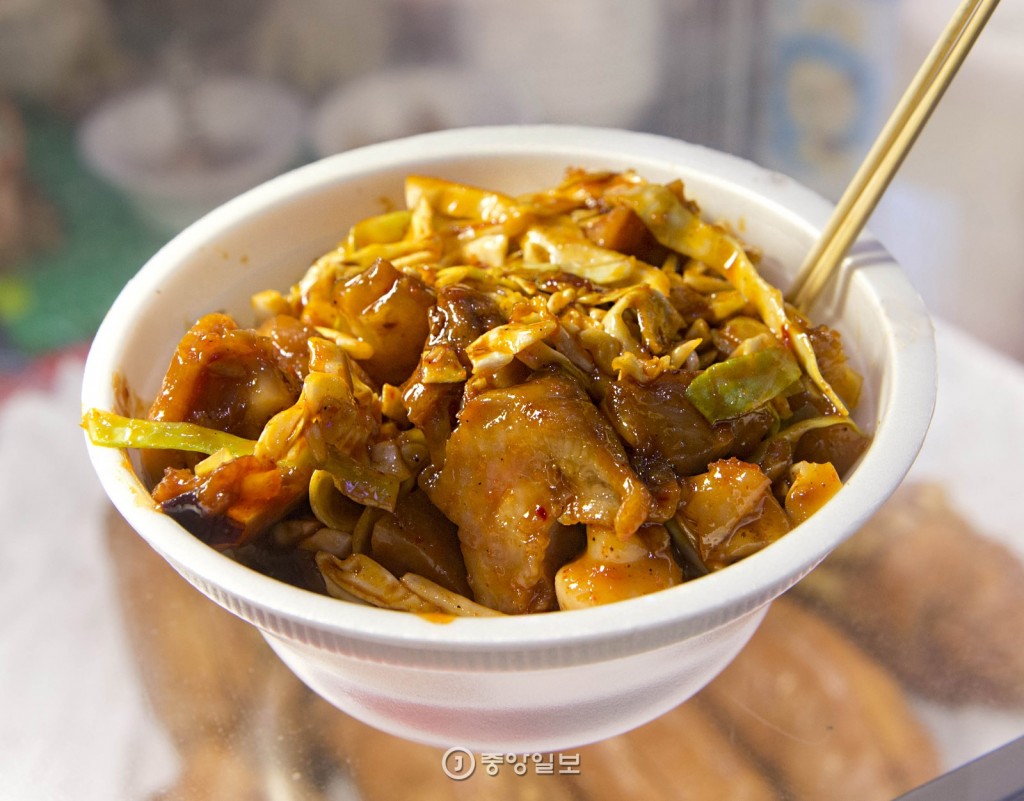 You can even enjoy Jokbal as a street food. Different from regular Jokbal you can find elsewhere, this Spicy Jokbal is marinated with spicy sauce and fried with cabbages. There are four degrees of spiciness you can choose from. Spicy Jokbal is famous especially for addictiveness.
Fried Crab
Gourmet fried crab is delivered to Myeongdong. Fried with the shell, this dish can be served with chili sauce, soy sauce, or garlic sauce upon your choice. The crunchiness of fried crab is popular both to Koreans and foreign visitors.
Grilled Scallop
Grilled scallop is one of the most popular menu on the street during the winter season. Cooked with corns and cheese on the top, grilled scallop leaves you with a relatively long wait time for a street food, but it worth the wait.
Original document available from http://news.joins.com/article/19326527#none
Translated by Heewon Kim