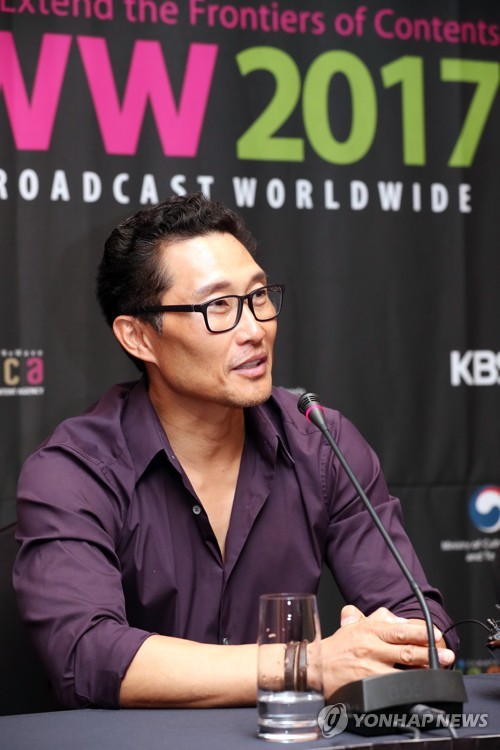 Daniel Dae Kim spoke up for the rights of Asian actors in Hollywood, representing them as one of the widely known Korean American actors in Hollywood.
Daniel spoke at a news conference held at COEX in Seoul, Korea, on August 30. The conference was held as a part of the 2017 Broadcast Worldwide (BCWW) hosted by the Ministry of Culture, Sports, and Tourism of Korea.
Previously in July, he and co-star Grace Park were withdrawn from CBS TV show Hawaii Five-O after a dispute about unequal payments. The two reportedly have received lower pay compared to co-stars of other races.
"Who else can speak up for this issue if I, who have built a comparably successful career in Hollywood, don't," said Daniel. "I have been fighting for the rights of Asian American actors in Hollywood, and will continue to do so."
The actor also mentioned recent changes made to the deep-rooted racial issues in Hollywood. He held up Ed Skrein's withdrawal from Hellboy as an example. Ed Skrein, a white actor who was cast as one of the leading roles in the upcoming film Hellboy, has withdrawn from the role upon learning that the original character was of Asian descent.
"It is a very important incident," Daniel emphasized. "It's the first time for a white actor to voluntarily step down from playing an Asian character's role."
Daniel, who founded producing firm 3AD in 2014, joined the conference as the producer of the U.S. remake of Korean drama, Good Doctor. Good Doctor is the first U.S. remake of a Korea drama to air on local TV stations.
The show, currently filming in Vancouver, will air its premiere on September 25 on ABC.
"Compared to the U.S. medical shows where the 'super doctor' characters lead the story with the outstanding abilities, the story of Good Doctor is special because the doctor in the show tries to overcome his innate weakness of autism," Daniel spoke about the upcoming show.
Original article by Noh Jin-jo