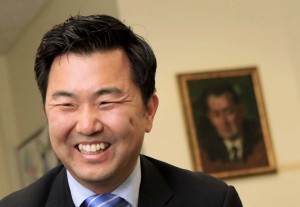 Councilmember David Ryu, Council District Four, along with Los Angeles Unified School District (LAUSD) Board President Steve Zimmer, introduced concurrent legislation instructing City departments and LAUSD staff to report back on the creation of a Children's Savings Account (CSA) program for Los Angeles County.
"Over the last fifty years, policies that have increased access to higher education, from the GI Bill to student aid, have not only lifted millions out of poverty, but have also boosted economic growth. Narrowing the gaps in college participation and increasing financial opportunity across income groups is vital to the success of our City," stated Councilmember David Ryu. "This is an opportunity for all families, no matter their background or socioeconomic status, to turn aspirations for higher education into reality."
A number of cities throughout the United States have already developed and successfully executed similar programs, including San Francisco, CA and St. Louis, MO. Opening CSAs for kindergarteners can dramatically boost high school graduation, college attendance, and college completion rates. If passed, Los Angeles will become the largest city in the country to introduce such a program ­­ potentially impacting the lives of millions of children.
"I am pleased to partner with Councilmember Ryu and the City of Los Angeles to explore how we can work together to begin college savings accounts for our youngest students and ensure college is a reality for all LAUSD students. Existing programs like those lead by the Fulfillment Fund offer us the blueprint for successful long term relationship building with our students and families. I am grateful for the leadership of Councilmember Ryu and his staff in crafting this proposal and helping LAUSD see it to fruition," stated Board President Steve Zimmer, LAUSD.
"Every graduate should have access to the financial resources they need to thrive and complete their college education," stated L.A. Unified School District Superintendent Michelle King. "We thank Councilmember Ryu and his staff for their leadership on this dynamic plan." stated Michelle King, Superintendent, LAUSD.
"For almost 40 years the Fulfillment Fund has worked with low­income students to help them overcome financial challenges so they may matriculate to college. The Fulfillment Fund is supportive of this type of legislation which helps low income families plan a pathway to college for their children." stated Dr. Gary Gitnick, Founder and Chairman, Fulfillment Fund.
Read Councilmember David Ryu's motion, here.