When it comes to South African cuisine, Ambassador Nozuko Gloria Bam, the second female envoy to be featured in this series, conceded there is a fine line separating the cuisines of other countries on the same continent.
Zambia, which introduced chibwabwa (pumpkin leaves) to this series just four weeks ago, is certainly no exception.
"Food in African countries is generally quite similar to one another," Bam said.
"There are some stark differences between the northern and southern parts of South Africa, like how southerners mostly use cutlery and eat umngqusho [maize cooked with beans], while northerners use their hands and consume mielie pap [maize porridge]," she said.
"However, in general you'll realize that as Africans, we eat common 'African food,' only with different names that vary from country to country," she added.
Q. Why did you choose chakalaka for today's main dish?
A. Growing up in the black townships, chakalaka [vegetable relish] was basically a part of every household in my neighborhood. This menu item has developed over the years, and in every occasion you will find it served as a salad or relish. It is usually served with mielie pap or bread – or sometimes, on its own as a full meal.
What Korean culinary aspects can you find in your South African dish?
Korean dishes use various herbs for different flavors and tastes. Chakalaka also uses various herbs like garlic, ginger and spices, though with different tastes.
You mentioned there are numerous ways to enjoy your dish. How do you normally eat it?
I usually add shredded cabbage, green onions and sometimes cauliflower. Instead of eating it with mielie pap, I serve it with snoek [a fish caught in the Western Cape's waters].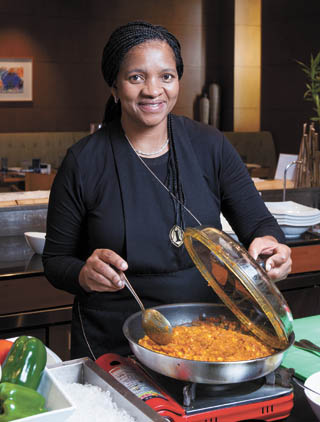 Please describe South African cuisine.
South African cuisine has emerged as a result of numerous influences. The indigenous populations of South Africa – Xhosa, Zulu, Sotho, Tswana and Khoisan – lived healthy lives relying mostly on wild game, meat, milk products, fruits and vegetables.
Increasing trade between South Africa and the Dutch East India Company, the colonial period and the emergence of migrant laborers have all greatly influenced the shaping of South African food as it is today. Anyone who visits South Africa will expect a taste of a variety of dishes, from traditional to international.
In traditional cuisine, you will find that maize is prepared in a wide spectrum of ways. Maize is our staple food. Each community – whether in Xhosa, Zulu, Sotho, Tswana or Afrikaner – cooks with this ingredient but in slightly different ways.
There are, however, some common dishes incorporating this plant, including roasted fresh green maize eaten on the cob; crushed dried maize kernels, called samp; dried maize kernels finely ground into flour, called mielie-meal; and mielie-meal mixed with sour milk, in an African salad known as umvubo.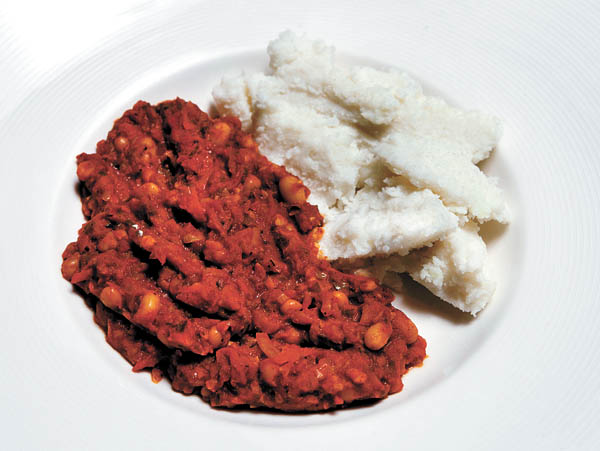 There's also a popular African beer called umqombothi, and this is made out of mielie-meal, wheat and yeast. When you mix mielie-meal, flour and water, you get something called mageu, a refreshing, slightly fermented drink.
The vegetables you will find in most African homes are morogo and imifino, two types of leafy greens. Imifino is known as purslane, a very nutritious weed. Other greens frequently used in the kitchen there are spinach, beetroot leaves and pumpkin leaves.
Meats include lamb, beef, goat, chicken and quite often tripe, known as izibilini in the Xhosa language.
For those who are adventurous, South Africa offers culinary challenges like crocodile sirloins, fried caterpillars [what South Africans call masonja, and Zambians call muyaya] and sheep heads. South Africa prides itself for its tasty beef, game meat and seafood. Game meat may include kudus, springboks, impalas and even ostriches.
Regarding seafood, Knysna, a town located on the southern coast, is renowned for its fabulous oysters, abalone, crayfish, yellowtail, hake and pole-caught tuna.
For the not-so brave, there are myriad indigenous delicacies such as biltong [dried, salted meat], bobotie [similar to shepherd's pie] and boerewors [grilled handmade farm sausages].
Note that internationally popular foodstuffs like sushi, hamburgers and spaghetti bolognaise are all provided in South Africa as well.
What are the best restaurants in Seoul serving South African cuisine or a similar one?
I did find one eatery serving some traditional South African dishes but none that offer tripe, sheep head, beef tongue or snoek.
The Braai Republic in Itaewon-dong, central Seoul, is probably the only place where locals can find boerewors, biltong, bobotie and chakalaka.
What are your favorite South African menu items, and where can you source them in Seoul?
Amasi [fermented milk] is one of my most favorite South African delights, but I have yet to find a local store that sells it. A drink that I often liken to buttermilk, I try to make something similar by mixing plain organic yogurt, full cream, a teaspoon of lemon juice and a bit of milk, whipping it up until it makes a good curd.
What Korean dishes are you most fond of, and why?
I like bibimbap [rice mixed with greens and red pepper paste]. I also enjoy eating bulgogi [marinated beef] and other Korean-style barbecued meat, which I find quite similar to South Africa's version of grill, also known as braai. I especially enjoy eating it at Seongbukgwan in Seongbuk-dong, northern Seoul.
Please give us your personal observations about Korea and how it compares to your country.
Korea is a very stable country economically and politically, which is very important in the development of any country. It is clean and safe, and therefore an ideal place to live in.
Even though the country is small in terms of land mass, it shares many aspects with South Africa in terms of population figures. Korea also has beautiful mountains, interesting historical sites recognized by Unesco and very good infrastructure.
Which places in Seoul do you enjoy visiting the most, and why?
I like the tranquility of Seongbuk-dong. The city's architectural sites like the Changdeok Palace in Jongno District, central Seoul, also carry a lot of history. You can't say you've been to Seoul without visiting the Myeong-dong shopping area in central Seoul or Dongdaemun Market in eastern Seoul.
In my leisure time, I go to the Blue Square Samsung Electronics Hall in Yongsan District, central Seoul, to watch various performances, or local theaters.
BY LEE SUNG-EUN [lee.sungeun@joongang.co.kr]