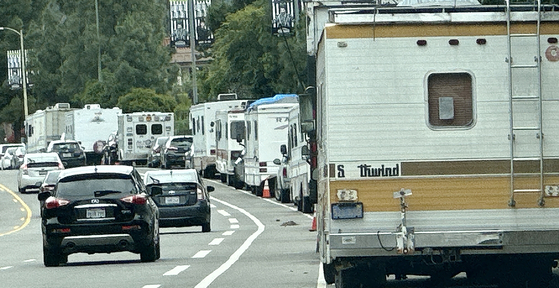 "Van-Lords" – People who rent out their RVs to homeless individuals for a fee – have sparked controversy.
Residents of RV-crowded neighborhoods are complaining that the proliferation of van-lords and homeless people is threatening their safety and leading to increased garbage dumping.
Homeless individuals who pay van-lords to live in RVs say it's better than sleeping on the streets, and the L.A. City Council has crafted a proposal to crack down on the RV rentals by van-lords.
During the COVID-19 pandemic, there has been a noticeable increase in RVs in neighborhoods such as Koreatown, Culver City, and Venice.
According to the L.A. City Council, there are an estimated 4,000 RVs parked on major streets, with approximately 6,500 homeless people living in them.
Van-lords are behind the surge in RVs, as reported by abc7 and CBS LA News. While homeless individuals often acquire their own RVs and park them in residential neighborhoods or on the streets, there has also been a noticeable increase in van-lords during the COVID-19 pandemic who rent out their RVs to homeless people in exchange for money.
Reports suggest that van-lords rent out their RVs to homeless individuals for an average of $300 to $800 per month. Some van-lords even provide electricity hookups for their homeless renters.
As the practice of renting RVs to the homeless has gained popularity, some van-lords have acquired multiple RVs to rent out.
ABC7 reports that Forest Lawn Drive near the Los Angeles River is a concentrated area for homeless RVs. A two-mile-long corridor has 70 RVs parked along it.
Residents of the area argue that these RVs pose a threat to their safety and the environment. Specifically, they note that the RVs rented by van-lords lack both landlord and tenant protections, are not registered, and are uninsured since they are often bought at auction houses for $2,000 to $5,000.
Tylor Stratton, a business owner near Forest Lawn Drive, expressed his concerns, stating, "I remember seeing four RVs in the streets surrounding my business. Today, one street alone has more than 10," adding that his concerns extend to "safety from violence, and also the fentanyl crisis and drug use."
On the other hand, van-lords and the homeless population do not see an issue with renting RVs.
Greg Williams, who purchased eight RVs to rent them out to homeless individuals, said, "I work with them, and I almost always offer sliding scale rates, so basically, whatever you can afford is what I work with you on." He finds most tenants through Craigslist, Airbnb, or word of mouth.
Lorna, a full-time home health aide, shared her experience, saying, "I only pay $400 a month because it was a friend of a friend. You know, a lot of people pay a lot more than that."
In response to addressing the issue of van-lording, L.A. City Councilwoman Traci Park (District 11) introduced a motion to strengthen regulations.
The motion aims to ban illegal RV rentals, limit overnight parking, and increase vehicle safety inspections.
"A lot of times, the occupants of these vehicles don't know the names of the individuals who rented them, they don't have valid contact information, and many of these vehicles are not registered or adequately insured."
BY HYOUNGJAE KIM [support@koreadaily.com]