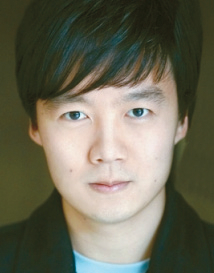 "You're invited to join us for Asteroid Day, a celebration of the meteorite's impact."
Korean-American actor Ethan Josh Lee (23), who appeared in Wes Anderson's new film "Asteroid City," featuring original storytelling and vibrant colors, expressed his hope for many Korean-Americans to come and see the movie.
Lee portrays Ricky Cho, a genius inventor of a jetpack in the film, standing out prominently in the movie's poster with his soaring figure.
"I've always wanted to work with a director I've admired since I was a kid, and now my dream has finally come true," explained the actor.
"It began with an audition call, and then I landed the role," he added, mentioning that he often found himself hovering over 30 feet in the air on set, enduring scorching 100-degree Fahrenheit temperatures while wearing a jetpack he designed for the film.
The actor gained recognition at the age of 9 when he was in a crime drama called Southland. Since then, he has steadily built his acting career, appearing in shows such as Glee, Mr. Robinson, and The Middle.
In 2019, he also directed a short documentary called Nicoteen, which portrays teenage drug use from the perspective of the teens themselves.
Born and raised in Los Angeles, the actor is set to graduate in June 2023 from Stanford University, where he majored in political science and international security studies.
Meanwhile, Asteroid City tells the story of the chaos that ensues after a meteorite crashes into the fictional desert town of Asteroid City in 1955. The movie stars Tom Hanks, Scarlett Johansson, and other renowned actors and is scheduled for release on June 23. The film has been officially selected for the 76th Cannes International Film Festival in competition.
BY YEJIN KIM    [support@koreadaily.com]