Monday July 11, 2022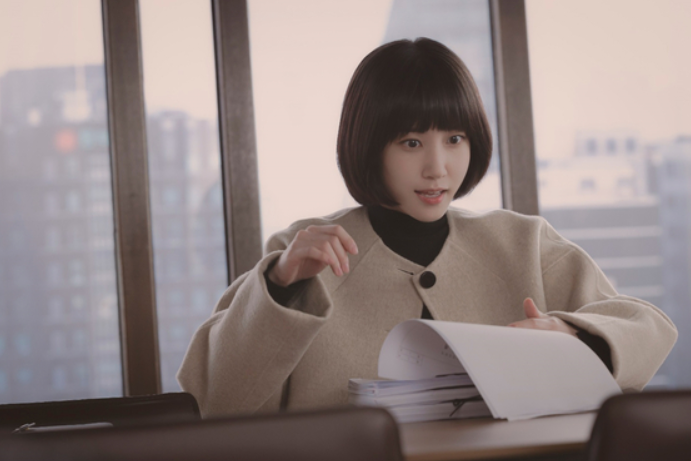 The series, which has aired four episodes so far, recorded a viewership rate of 5.2 percent, an impressive number even among content aired by local broadcasters in an era when many view content through streaming services. The series is also available for streaming on Netflix and hit No. 1 on the daily Top 10 chart for TV shows not only in Korea but in other regions such as Japan, Hong Kong, Malaysia, Indonesia, Taiwan, Thailand and Vietnam.

Woo Young-woo is a brilliant rookie attorney who has autism spectrum disorder, and she works for big-name law firm Hanbada. Each episode revolves around different cases and the people she faces in her work. She resolves each case in her own unthought of, unique way and crushes the stereotypes of the people who look down on her.
The series immediately gained attention for its detailed and high-quality script that reflected thorough research on autism and the legal profession, Park's outstanding performance and the colorful yet not overdone computer-generated imagery (CGI). When Woo has a flash of inspiration, CGI depicting whales — her favorite animal — appears.

One anonymous review on a global online forum whose writer also professed to being autistic praised the series for its detailed and accurate description of the autistic character.

"So far, the writer and director got everything correctly and there were no exaggerated/sensationalized scenes re: autistic and autism, in general or otherwise," he wrote in English. "My hopes are high that they will maintain this 'pureness' instead of adding things that does not represent us autistics."

"I'm a parent of a profoundly autistic girl, the jumping on the trampoline was spot on," another review reads. "My daughter always did that! […] I also love the female character since 3 dramas I've seen featuring autistic lead characters had male leads," they said, referring to "Good Doctor" (2013) on KBS, "It's Okay Not To Be Okay" (2020) on tvN and Netflix original "Move To Heaven" (2021).

Park has also been receiving praise for her superb performance. Park, who has been active as an actor since the age of four, has done her homework perfectly, combining Young-woo's cheerful yet unique mannerisms, her distinct way of talking, her whimsical personality and facial expressions, to succeed in depicting a lovely, confident attorney who doesn't try to hide the fact that she has autistic spectrum disorder.

According to Park in an interview with fashion magazine Allure Korea released on YouTube on June 24, Park said that she received the script for "Extraordinary Attorney Woo" around the same time she received the script for "The King's Affection" (2021) which aired on KBS. Park, however, chose the latter because she "wasn't confident" she could pull off the role of Woo.

"When I thought about whether or not I could portray the character without hurting anyone or making anyone offended, I became scared," she said. "So I refused the role several times, but the director and writer had faith in me and waited."

Director Yoo In-sik and writer Moon Ji-won of "Extraordinary" waited a year for Park to finish "The King's Affection," which was also praised as one of Park's iconic works.

Set in the Joseon Dynasty (1392-1910), Park portrays Dam-yi, the twin sister of young Crown Prince Lee Hwi who takes his place when he is killed through a mistake. To hide her identity, she distances herself from almost everyone at the palace until she falls in love with her tutor, Jung Ji-woon, portrayed by Rowoon.

The series, which is also available on Netflix, was highly popular due to the chemistry between the two leads and Park's superb acting of a queen who disguises herself as a man. It climbed to No. 2 on the streaming platform's weekly Global Top 10 chart in the non-English TV category from Nov. 8 to 14 last year, and continued to pop up frequently on the daily Top 10 chart for TV shows released by FlixPatrol even after the show ended, being especially popular in Southeast Asia and South America.

In another SBS drama series "Hot Stove League" (2019-20), the series had gathered a large fandom and eventually rose to popularity, ending with a flourishing 19.1 percent, the highest ever for a sports-related drama series. The series revolves around members of the front office of a fictional Korean professional baseball team called The Dreams who has done poorly for the past four seasons. Park portrayed Lee Se-young, a passionate operations manager of The Dreams and the sole female manager in the league. Extremely dedicated to her team, Park can be fiery when it comes to protecting her team's rights and interests.

Ever since her debut in the entertainment industry as a child model for children's clothing magazine Pippy in 1997, Park has been tirelessly active as an actor for 25 years, her filmography stretching just as far and wide. Up until 2011 she mostly portrayed child versions of main protagonists, and her first hit is widely recognized to be JTBC drama series "Hello, My Twenties" (2016-17), where she completely deviates from her prior image and expands her range as an actor through the character of Song Ji-won, a university student living in a share house of Belle Epoque who enjoys dirty talks and drinks now and then.

In "The Witch: Part 2. The Other One," which is currently available in local theaters, Park portrays Kyung-hee, a normal human without any superpowers who comes across a supernatural girl and takes care of her. Rather than to challenge herself, Park said she took on the role because she was a fan of the "The Witch" series and wanted to be part of it.

"Extraordinary Attorney Woo" airs on ENA every Wednesday and Thursday.

Park Eun-bin

Date of birth: Sept. 4, 1992
Zodiac sign: Virgo
Birthplace: Songpa District, southern Seoul
Debut: 1996 as a model through children's clothing catalog Pippy
Agency: Namoo Actors


Park Eun-bin debuted as a model through children's clothing catalog Pippy in 1996 and pursued her career in acting, mostly reenacting child versions of the protagonists in television series. Her breakthrough in acting came through JTBC drama series "Hello, My Twenties" (2016-17) where she portrayed a university student Song Ji-won, comically drawing out the character's outgoing personality. She has since then starred in a variety of genres across the small screen such as "Judge vs. Judge" (2017-18), "Hot Stove League" (2019-20) and "Do You Like Brahms?" (2020) on SBS and "The King's Affection" (2021) on KBS. She is currently starring as the brilliant young autistic attorney Woo Young-woo in television series "Extraordinary Attorney Woo" on the cable channel ENA.

This information was confirmed by Namoo Actors on July 8, 2022.
BY LEE JAE-LIM [lee.jaelim@joongang.co.kr]