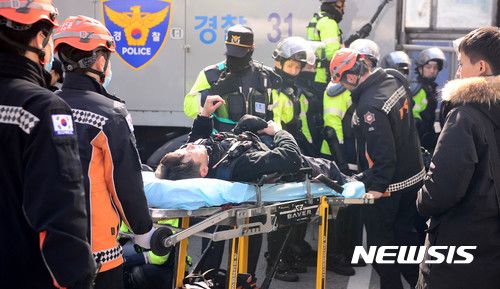 Protests opposing Park's impeachment occurred on the 10th in Seoul, South Korea.
Two died amid the wild scenes in Seoul during the protest and another two are in serious condition. Even reporters and 33 police officers trying to stop the protest were injured.
According to the Seoul Police Agency, dispute occurred between the protesters and police officers when the protesters tried to get into the constitutional court after the court decided that Park should be removed from office.
During this dispute, dozens of people got injured and two died while being transferred to the hospital.
Kim (72) fainted after his head was hit by a large dual speaker that Jung (65) had dropped, but could not survive despite being sent to hospital. Jung had seized the police bus and drove it but during that process a large dual speaker that was on top of another police car fell, hitting Kim's head. Jung was arrested afterwards.
Another person Kim (60) was found unconscious around 12:15PM KST but could not make it either.
The other two people in serious conditions were found at the scene and had received CPR. They are currently receiving medical treatment at the hospital.
The police had no choice but to use capsaicin around 2:21PM KST to take control of the chaotic situation.
Some protesters even beat the reporters at the scene. Five reporters are said to have been injured. 9 police officers and 24 conscripted policemen were injured due to the protesters.
The police arrested 7 protesters and is planning to issue warrants after further investigation.
Original article available on http://www.koreadaily.com/news/read.asp?art_id=5077715
Translated by Ellen Kim