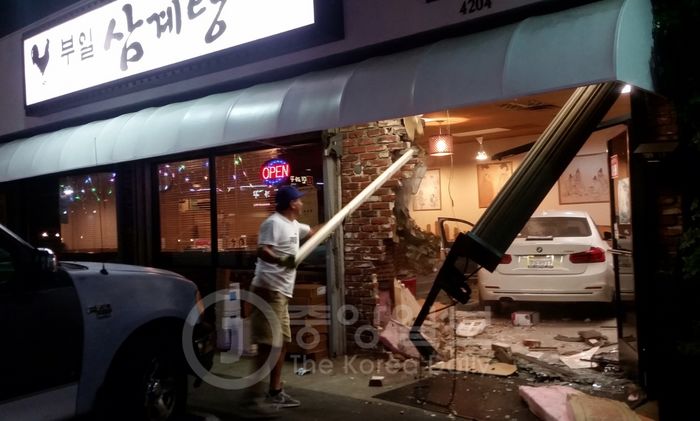 Last night, a car rushed into a Korean restaurant in Los Angeles Koreatown.
The accident happened around at 9 P.M. last night (3rd) at 'Buil Samgyetang', which is located at 3rd and Hobart. The restaurant was reaching its closing time, so there weren't many customers in the restaurants. About 10 customers were eating at the restaurant during the accident.
A white BMW car, which seemed to be parking in front of the restaurant, all of a sudden rushed into the restaurant. The car completely broken down a wall of the restaurant.
The driver was identified as a Korean woman in her 30's. The car was a new car that was released 6 months ago. The cause of the rush has not been found yet. The driver had no external injuries. However, it seemed that the car's airbags didn't operate during the accident.
A woman, who identified herself as the driver's sister said, "My sister is in a complete daze now. She can't remember the moment of the accident. I think we can find out the cause after having some detailed investigation."
Joel Park, the owner of the restaurant said, "It happened in an instant. While the car was rushing in, it grazed my right arm."
Park said that the car "miraculously stopped right in front of a customer that was eating at the moment" and said there was no customer with big injuries.
Original article
Translated by Audrey Joung