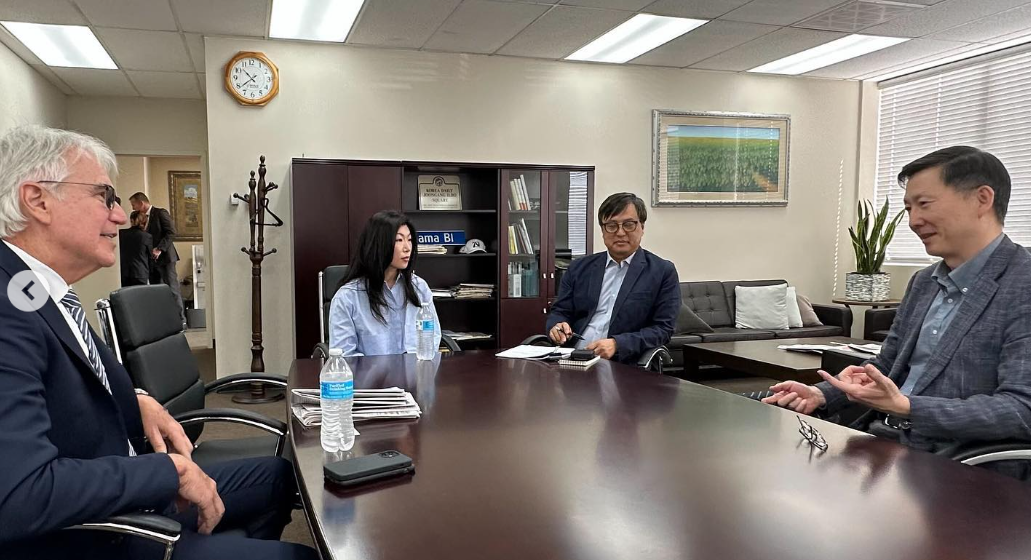 These days, many residents in Los Angeles are worried about their safety, living in fear. It is because they feel they may become a victim of violent crime anytime, anywhere. Small-business owners sleep fitfully, worrying about rampant burglaries and shoplifting.
In fact, the number of violent crimes and gang-organized robberies has increased recently. Crimes are becoming more daring. There have been cases of 100 people breaking into a convenience store and stealing goods, and 10 restaurants in a neighborhood being robbed overnight.
Koreatown is no exception. A teenager in a car was shot and killed in a robbery, a man in his 30s was stabbed to death on the sidewalk, and burglars broke into dozens of cars parked in parking lots of a Korean restaurant while the car owners were eating at the restaurant. The rise in crime is also reflected in the numbers. From January until early April, there were an average of 3.6 violent crimes per day in Koreatown, according to police. That's a six-year record high.
Often blamed for this surge in crime is the lack of penalties for criminals. In LA County, the elimination of cash bail for all but felonies has led to the release of more misdemeanor and non-violent offenders. Experts say those released often commit second and third offenses because they think that if they are arrested again, they will be released again. Critics argue that lenient punishment encourages crime recidivism.
Police willingness to investigate is also an issue. In recent years, the police have been criticized for being demoralized by budget cuts and for being reluctant to arrest criminals. Police officers publicly say that criminals they catch will only be released again. As a result, the police do not respond to calls, or if they do, they conduct only a cursory investigation. Moreover, many Korean immigrants have more difficulty in filing cases and understanding the progress of the investigation due to language barriers.
LA County's District Attorney George Gascon has been blamed for undermining the police force and letting criminals off the hook. In a recent interview with the Korea Daily, Gascon insisted, responding to "soft on crime" criticism, that his office takes a "smart approach to crimes and offenders."
The following is an edited excerpt of his arguments regarding the "soft on crime" criticism.
"The policies and activities of the police and prosecutors are not the only reason for the increase in crime. There are other invisible social factors that contribute to the increase in crime. As prisons fill up, they are forced to release inmates early. More than 17,000 people are being held in the county's detention centers, which are designed to hold 12,000. As a result, the average one-year felon is released after serving 10 percent of their sentence. That's the reality. County government has to take responsibility for this. No matter how much you punish and prosecute, you're not going to reduce crime if people think they're going to be released again. The heart of the problem is after the punishment. The key to public safety is how to reduce recidivism."
In summary, Gascon maintains that criminals are released not because of his "soft on crime" policy, but because of prison capacity and budget constraints. His "smart on crime" approach will focus on reducing recidivism instead of imprisoning criminals.
There have been two unsuccessful recall campaigns against Gascon in the past. Recall campaign organizers argued that Gascon's "soft on crime" policy should be blamed for the surge in crime.
Chesa Boudin, the 29th-district attorney of San Francisco, also pushed ahead with criminal justice reform policies to reduce incarceration, including eliminating cash bail and implementing new policies to address police accountability.
Boudin was removed from office as 55 percent of voters approved a recall election on June 7, 2022. He had been heavily criticized for disregarding public safety as crime surged with his perceived "soft on crime" policy. Especially, he had been blamed for neglecting Asian hate crimes.
Gascon, along with Boudin, is categorized as a "soft on crime" reformist district attorney. To pacify concerns about public safety, Gascon said his office will work proactively to keep people safe.
It remains to be seen if Gascon can achieve both criminal justice reform and public safety with his "smart on crime" approach.
BY MOOYOUNG LEE   [lee.mooyoung@koreadaily.com]