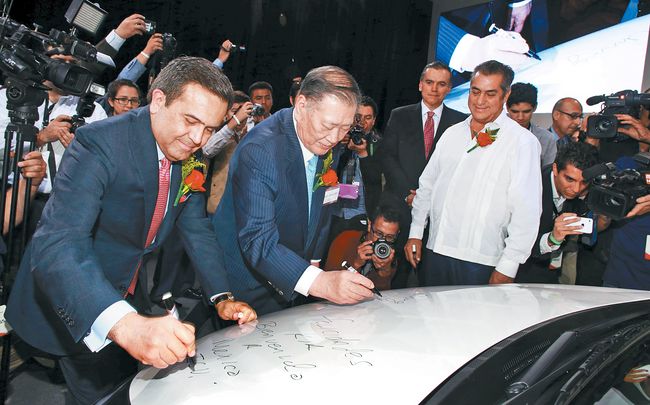 There are 183 auto and electronics factories in Mexico
Some are considering relocation to the United States
At least 100 sewing factories are also Korean-owned
"Peso's rise could make it more difficult for businesses"
As President Donald Trump plans to forego with his promise to build the controversial wall along the Mexican border, the threat has now swelled into levying a 20 percent tariff on the United States' neighbors to the south. The contentious approach of the Trump administration has now triggered a legitimate concern among South Koreans and Korean-American businesspeople who have been active in the Mexican market.
Trump adviser Kellyanne Conway said Friday that the border tax could be anywhere between 5 and 20 percent. On the same day, Trump reached an agreement with Mexican president Enrique Pena Nieto to making public statements about the concerned issue. However, it is still feasible that the tension between the two countries could lead to implementation of a substantial border tax on imported goods from Mexico.
◇ Korean conglomerates in Mexico
It is already clear that a considerable share of border tax on U.S.-bound goods manufactured by factories in Mexico, where labor remains relatively inexpensive, will weaken the competitiveness of Korean corporations, many of which are producing electronics and cars south of the American border.
There are currently 183 South Korean businesses in Mexico. Those companies are generating a combined annual revenue of $22 billion. A large portion of those exported goods are headed to the U.S.
While South Korean businesses with factories based in Mexico are reluctant to speak out publicly about their concerns, it's undeniable that they remain worried about the potential consequences. As the Trump administration has yet to make a move on the issue, many businesses are desperately hoping that the tensions will eventually ease.
Even the likes of Samsung and LG are scrambling to find alternate plans. It has been reported that both LG and Samsung are exploring the possibility of its factory in Tijuana to somewhere in the U.S. in the near future.
"If Trump's plan actually comes to fruition, it is certain that we'll be taking a hit," said LG vice chairman Seong-jin Cho. "We'll have to look into ways of manufacturing in the U.S."
The same scare applies to the South Korean auto industry. However, Hyundai and Kia remain cautious as their plans will vary until U.S. government takes action.
Initially, Kia planned to manufacture approximately 250,000 cars at its Nuevo Leon factory in Mexico. Such a plan would increase Kia's U.S. sales rate by 8 percent to 699,000. However, a 20 percent border tax would alter Kia's plans drastically.
"There are difficulties for us to create alternate plans as the U.S. government is still indecisive and often change its own plans," said Kia's chief financial officer Chun-soo Han. "As soon as the government announces the policy, we will work on creating an alternate plan."
Moreover, Trump has also suggested that border tax will be placed on German and Japanese vehicles manufactured in Mexico.
The census data reveal that the U.S. imports more goods from Mexico than the other way around. The amount of auto parts making way from Mexico to the U.S. double the quantity that is headed the opposite way.
Additionally, U.S.-bound cars manufactured in Mexico are 15 times higher, while the figure for televisions is eight times more. Hence, Trump's critics say that creating a vindictive policy to suffocate Mexico may actually come back to haunt his regime.
◇ Korean-owned apparel manufacturers in Mexico
"There are roughly around 100 Korean-owned sewing factories in Maquiladora, a manufacturing base in Mexico. They're all heavily focused on Trump's new policy. A border tax of 5 to 20 percent will definitely shrink their businesses."
As Trump continues to harp on the need for conservative trade policies, Korean apparel business owners are growing more uncertain about their futures. To make matters worse, some businesses have only relocated their factories to Mexico in the last two to three years.
So far, Trump has not made a firm decision on whether he will levy a substantial border tax on imported goods from Mexico or rather renegotiate the terms of the North American Free Trade Agreement (NAFTA). Although Trump's administration is still undecided on the matter, the president has made it clear that he will remove the current "no border tax benefit" on Mexico.
Currently, many Korean apparel businesses own about 100 factories in border cities of the U.S. and Mexico, including Tijuana and El Paso. Each factory is employing about 100 workers on average.
An hourly wage for each of them is at least 94 pesos, which equates to slightly less than $5. Considering that the minimum wage in California is $10.50 for businesses with less than 25 employees and $12 for the ones with 26 or more, the cost per worker in Mexico is less than half.
"Even the wage in Maquiladora has at least doubled since two years ago after the U.S. factories came flocking in," said a factory owner who relocated to Tijuana two years ago. "If there is a 20 percent border tax on top of that, the industry itself will shrink."
Granted, factories in Mexico are paying the employees in U.S. dollars. However, apparel factories Mexico usually import materials made in China for their sewing projects. Having to cover border tax twice would obviously become a burden as Trump has also mentioned that he could impose a 45 percent tariff on imported goods from China.
"If border taxes are inevitable, I just hope for the bare minimum," said apparel business See You Monday owner Yoon-sae Lee, who is operating a sewing factory in Mexico. "Businesses themselves should also make efforts to maintain a low production cost by avoiding excessive competition with one another when it comes to competing for labor."
By Moon Ho Kim