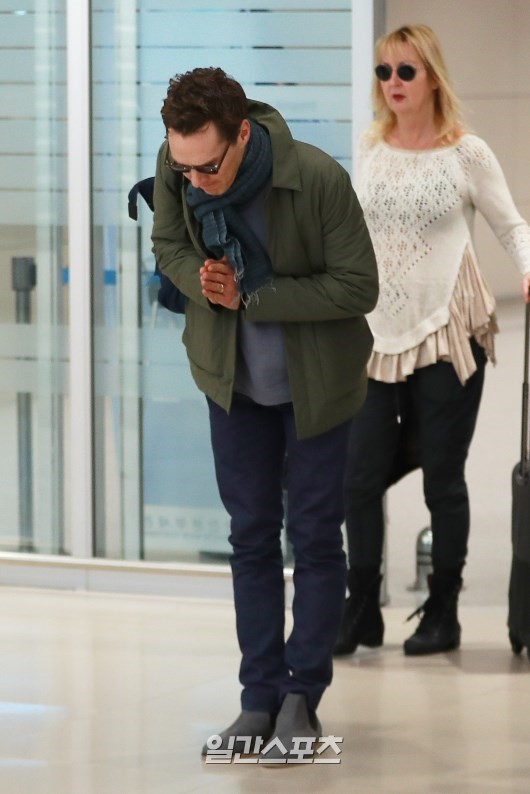 With the opening of "Avengers: Infinity War" only a couple of weeks left, four featured actors are visiting Korea for a promotional tour.
On April 11, Benedict Cumberbatch arrived in Korea through Incheon International Airport. Exiting the gate, the actor greeted fans and reporters by pressing his palms together and bowing head down.
The picture of his greeting spread quickly through the Internet, causing controversy. On Korean search engines like Naver and Daum, search results for Benedict Cumberbatch come with related terms including the following: "Buddhist Greeting," "Buddhist Greeting Racism," "Benedict Cumberbatch Racism."
While some argue that he was just trying to be polite, others point out that he is only culturally ignorant to think that all Asians greet with their palms pressed together.
Below are some of the notable reactions people shared on Twitter.
Why do some westerners do this when in Asia? It's ignorant & vastly stereotyping. We don't do this in Korea except for Buddhist monks. #BenedictCumberbatchinKorea pic.twitter.com/7buiLdvWHB

— Suki Kim (@sukisworld) April 12, 2018
스님과 지드래곤을 제외한 동북아인간 그 누구도 합장인사 안 해 아시안을 만난 백인만 한다

— 김바 (@potatosouper) April 11, 2018
"None of the Eastern Asians do Buddhist greetings except for Buddhist monks and G-Dragon. Only White people do this to greet Asians."
합장하는 베네딕트보고 환장하는 나……. pic.twitter.com/2gyWpTEKV5

— ?노팬티노양심? (@noscruple) April 11, 2018
"Benedict doing a Buddhist greeting drives me crazy"
진짜 백인들 아시아 국가와서 합장인사 하는거 자기들딴엔 그게 예의인 줄 알겠지만 너무너무 무지한거고 알아볼 생각조차 없었던 것의 반증이고 오히려 예의없고 인종차별적이란거라고

— 와칸다.. 보내주시오…. (@_dada105) April 11, 2018
"Seriously, White people would think that doing Buddhist greeting is polite but it's actually really ignorant and it only proves that they didn't even try to research about it. That's very rude and racist."
"합장은 서구인들 고유의 전통으로,본인의 무지와 무식을 상대방에게 표현 하는 방식 중 하나입니다. "

— 희 (@cutting_kkochu) April 11, 2018
"Buddhist greeting is a Western tradition of expressing one's own ignorance to another."
합장 인사 받으면 기분이 굉장히 뭐같은게 일단 레이시즘적인데 하는 사람은 또 매우 정중하게 동양식으로 인사한답시고 하는 거라서 화낼 타이밍을 놓쳐버린다는 점이 있음

— 인본주의 양 블랑까 (@Blanca_theLamb) April 11, 2018
"It feels really bad when someone does the Buddhist greeting because it's racist but the person who does it is doing it very politely to greet in Asian way so you eventually miss the timing to express your anger."
As the controversy grew, the promoter wrote, "Benedict Cumberbatch had interests in the Buddhist culture and his greeting doesn't mean or intend any racism."
"Avengers: Infinity War" is to be released on April 25 in Korea.
By Heewon Kim