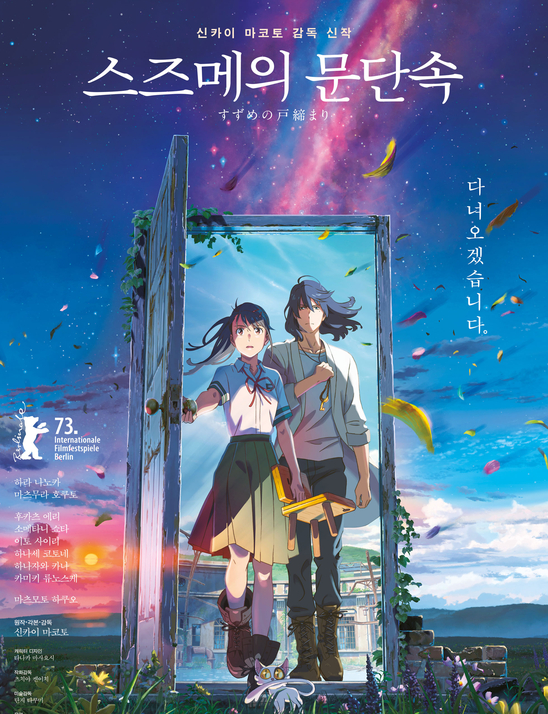 Japanese animation "Suzume" (2022) surpassed one million in ticket sales in Korea just six days after the film premiered on March 8, while "The First Slam Dunk" (2022) which hit local theaters on Jan. 4 became the highest-grossing Japanese animation film in Korea with over 4 million ticket sales as of March 12.
 
Directed by Makoto Shinkai, "Suzume" is a fantasy animation about a young girl who tries to prevent natural disasters after discovering mysterious doors that lead to unexpected places in Japan. The film has messages of hope and comfort for those who live with loss and uncertainty after the Tohoku earthquake in 2011. 
 
After its release in Japan in November last year, "Suzume" became the third film directed by Shinkai to garner 10 million in ticket sales in the country alongside "Your Name" (2016) and "Weathering With You" (2019). The film garnered 3.7 million in ticket sales as of Sunday. 
Japanese films have been slowly returning to local theaters and going further, sweeping the top spots at the local box office. It looks like Korea's anti-Japan sentiment that surfaced in 2019 with Koreans boycotting Japanese brands and content may be finished.

The phenomenon began with last year's "Even If This Love Disappears from the World Tonight," a Japanese flick based on the novel of the same name, which hit local theaters on Nov. 30. The film sold more than 1.1 million tickets and became the highest-grossing foreign live-action film for 2022 and the second highest-grossing Japanese live-action film in Korea. It's the first time in 21 years for a Japanese live-action film to sell more than 1 million tickets since "Ju-on: The Grudge" in 2002.
Then came "The First Slam Dunk" and "Suzume," both of which landed at No. 1 as soon as their release. The films are still being screened and as of Sunday, both "Suzume" and "The First Slam Dunk" landed at No. 1 and No. 3 at the Korean box office, with "Demon Slayer: Swordsmith Village" (2023), a cinematized version of the TV animation "Demon Slayer," ranking at No.10.

"Demon Slayer: Swordsmith Village" is a cinematized version of the TV animation "Demon Slayer" (2021-22), while "The First Slam Dunk" is an original animated film based on the popular Japanese basketball manga and TV animation "Slam Drunk" (1990-96).

Late last year the Economist published an article titled "Japanese Manga are being eclipsed by Korean webtoons" and culture critics seem to agree. Korean TV shows, films and webtoons, have indeed beaten Japan in recent years. However, if this is the case, then why are Japanese films taking over the domestic box office and livening up local theaters that have been in the doldrums.

Is Japanese pop culture, which had been seeing a decline, suddenly resurging? Or are Koreans ditching the "No Japan" boycotts?

Film critic Oh Dong-jin says it's partly due to the Korean theater market's slow recovery after getting hit hard by Covid-19. Kim said about 80 percent of movie theaters in the U.S. and Europe have recovered, but Korea has recovered by only 50 percent, which is the slowest in the world.

"In the midst of this vicious cycle, where competitive content delays its releases while fewer audiences visit theaters, Japanese animations like 'Slam Dunk,' which already secured hardcore fans, stimulate retro sentiment and hit the jackpot," said Oh.

Professor Kang Tae-woong at the Department of Northeast Asian Cultural Industries at Kwangwoon University sees the phenomena as merely a "process of going back to normal."

"There has always been a movement by Korean fans of Japanese anime," he said. "Ever since Korea lifted its ban against Japanese popular culture [in 1997], there was this pattern of Japanese animation landing at No. 1 at the Korean box office right after it hits No. 1 at its own box office in Japan. That pattern experienced a hiatus during the 'No Japan' boycott, making these phenomena look strange."

Kang added that the recent releases "Suzume" and "Demon Slayer" are still doing well in Japan, which means that they will do well in Korea also.

Though it wasn't as popular as "Your Name," Shinkai Makoto's "Weathering With You" played in theaters for 259 days, beating the 1993 film "Sopyonje" by director Im Kwon-taek, which was played for 231 days. Similarly, "Demon Slayer: Infinity Train" (2020) released in Korea on January 27, 2021, became the first movie to surpass 20 billion won ($1.5 million) in total revenue, with the original manga "Demon Slayer" series sweeping No. 1 to No. 25 on Yes24's comic book chart for the first half of 2021.
Japan has always been the leading nation in comic books and animation.

"Astro Boy" (1952-68) was the first comic book that was turned into a television cartoon series and the first TV cartoon series in 1963 that got exported to the U.S. and U.K. markets. Last year, Hayao Miyazaki's "My Neighbor Totoro" (1998) was reimagined by the Royal Shakespeare Company as a stage adaptation, while the hit "Pokémon" (1996), became the most-profitable media franchise in history with estimated revenue of $118 billion.

While the aforementioned Economist article analyzed that the Japanese manga market, estimated at 265 billion Yen ($2 billion) is less profitable than other global webtoon markets, this is true only in regard to print editions.According to the Japan Research Institute for Publications, Japanese manga revenue totaled 677 billion Yen ($5.1 billion) last year, which is an all-time high, with total animation revenue also seeing a 13 percent increase in 2021, to reach 2.7 trillion Yen.

While Japanese animations are doing well, the same cannot be said for all Japanese content. 

"In Japan, copyright laws are so strict that it is difficult to watch even a full-length music video on YouTube and there is a strong tendency to maintain an analog system," said Prof. Kang. "Moreover, since the domestic market is large enough, the OTT era has not yet arrived in Japan. This means that in terms of drama, network channels, with lower budgets compared to other streaming services, cannot risk their chances. They pursue safer productions that guarantee a [higher] local viewing rate, resulting in lower global competitiveness," said Prof. Kang.

There has been a decrease in provocative content and instead a focus on content surrounding social issues. 

Films such as "Plan 75" (2022) and "Broker" (2022) cast light on current issues, like the super-aged society and the dissolution of families, along with TV series "Japan Sinks: People of Hope" (2021) and Shinkai's three recent films. 

Retro trends also surfaced in Japan. Public network NHK's annual year-long historical drama series saw an increase in viewership ratings and Netflix series "The Makanai: Cooking for the Maiko House" (2023) looks back at the good old days and pursues the value of ordinary living. "Suzume," too, featured songs by Japanese singers who were popular in the 70s and 80s, such as Miyuki Nakajima and Seiko Matsuda.

Ironically, such less proactive content seems to have captured a niche in the Korean market that is overflowing with provocative content. Japanese popular culture has been steadily developing various genres and among them, genres that are lacking in Korea have formed hardcore fans. Gourmet mangas that solely revolve around eating good food such as "Solitary Gourmet" (2012-22), which is a story about a middle-aged salesman going around eating delicious lunch and "Midnight Diner" (2009-19) which revolves around a small restaurant that opens at late night, are particularly popular.

President Yoon Suk Yeol cited these two programs in an interview with Yomiuri Shimbun of Japan on March 15 as his favorite Japanese TV programs.

Another notable trend in the resurgence of Japanese content is its popularity among the younger generation.

While the popularity of "The First Slam Dunk" can partially be attributed to the nostalgic and retro factor the movie offers, its popularity among young women also contributed to its success.

According to movie theater chain CGV, 66 percent of the viewers who watched "The First Slam Dunk" were people aged under 30, and out of the people who bought the original manga on Yes24, 44 percent were females between the ages of 20 to 30. 
"This is a typical behavior of hardcore fans of Japanese pop culture," said Prof. Kang.

"'Slam Dunk' is not simply an old basketball manga that only basketball fans like. Female fans in their 20s began to create fandoms for individual characters of the movie," Kang added.  

That's exactly what happened to Cho Min-jung, a female fan in her 30s who watched "Slam Dunk" 13 times.

"Because movie theaters give out different exclusive merchandise such as limited edition tickets and posters, I've ended up traveling to Gyeonggi to watch the movie," said Cho.

"While the mood of Korea-Japan relations has fluctuated over the years, there was never a time where relations were strained for more than three years, and the current situation can be explained as a rebound phenomenon," Prof. Kang explained.

"This [positive] atmosphere should be a chance for the weakened private and cultural exchanges to be rebuilt upon," he added.
BY YOO JU-HYUN [yoo.juhyun@joongang.co.kr]