South Korean Police are investigating vandalism of the outdoor sculpture by internationally renowned artist Lee Ufan.
On March 26, Busan Museum of Art said, "We've belatedly found the installation in outside gallery 'Space Lee Ufan' was damaged by vandalism and footprints and reported to the police recently."
After finding the damage later in January, the museum recovered the art piece. The damaged sculpture, which is "Relatum-Corner" by Korean-born artist Lee Ufan, was found with vandalisms writing "Wanna One," "Kang Daniel," and other names, along with heart drawings. Dusty footprints were also found below the writings.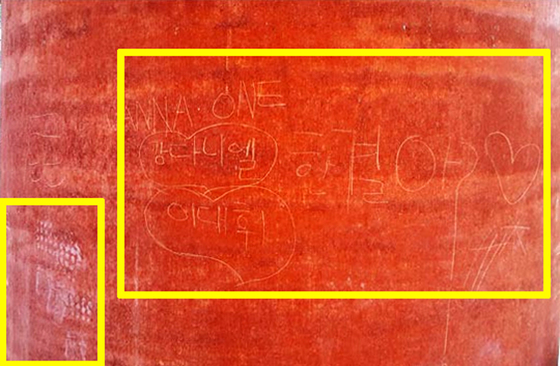 Sculpture using steel plates and stones, "Relatum-Corner" is one of the four pieces the museum has brought to celebrate the opening of 'Space Lee Ufan' in 2015. It cost about 700 million KRW at the time of the purchase and the current value is estimated higher.
"The incident happened because of some people's lack of awareness about the artwork and the artist," said Kim Seon-hee, the director of Busan Museum of Art. The museum has recently recovered the piece and installed warning signs in the outdoor gallery.
However, some point out that the museum is responsible for the damage. In contrast to its promotion presenting the space as the only gallery dedicated to the international artist, the management is rather poor, with small signs and security cameras.
Haeundae Police is currently investigating the case, but they are having trouble identifying clues due to the poor resolution of the museum's security camera.