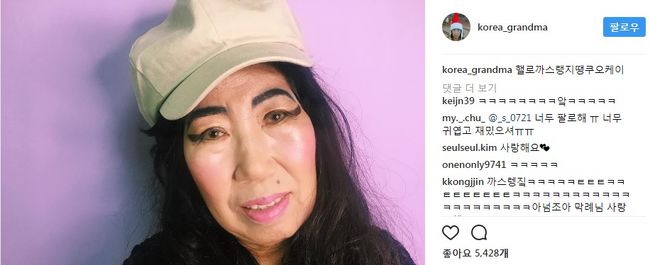 "An eyeshadow brush could mess everything up, so you have to be careful!"
Wrinkled face and rough hands. A familiar old Korean lady is on screen. With her clunky craft, she puts her mascara on. She does not hesitate to use profanity to complain if the name of the makeup brand is too long or the product is too hard to use. She is a typical old Korean lady.
Mak-rye Park, 70, was first introduced by the Washington Post on July 14 as a "YouTube hit."
She is reportedly the "hottest YouTube star" in South Korea. The Post added that the "young South Koreans find her so funny and adorable that big companies like Samsung Electronics and Lotte are banking on her popularity." The Korea Daily looked into just what makes Park such a popular figure with her authentic presentations.
Park is honest, so much so that she could even be seen as being brazen. She also presents contents that center on topics different from typical beauty videos on YouTube. Some of her videos also include traveling with her grandchildren and introduction of her home. Her visual presentation is from a standpoint of an elderly citizen.
The Washington Post also added that Park is contributing to the transformation of old people in South Korea, who are often nicknamed "kkondae," a term used to mock the older generation for their incessant need to patronize young people. On the other hand, Park is authentic in how she projects herself to others.
The brain behind Park's rise to stardom on YouTube is her granddaughter Yura Kim, 27. Kim, an acting instructor, traveled to Australia with Park, as soon as the grandmother was diagnosed with early symptoms of Alzheimer's. Kim felt that Park needed a reward for taking care of her three children for more than 40 years on her own.
During the trip, Kim filmed a video of her having fun with the grandmother. It soon became a hit on YouTube. Since then, they began posting more videos. Park now has thousands of hundreds of followers on social media.
"My grandma also likes traveling and taking pictures of pretty things like we all do," said Kim, who now works as a producer.
About her own online endeavor, Park said: "My life before getting on YouTube was like that of rotten bean sprouts. Now, I live with the mindset that life really starts at 70. My life starts now."
By Jaera Kim