Grand Hyatt Incheon
To Dec. 27: The Grand Hyatt Incheon launched its Awoo Doll campaign in partnership with Unicef. This campaign is the Unicef charity program to prevent disease in needy children. Grand Hyatt Incheon is taking part in this project for the sixth year. In Korean, awoo means a younger brother or sister. Guests can adopt their awoo from the dolls displayed in the lobby restaurants at Grand Hyatt Incheon by donating at least 30,000 won. All donations will be sent to Unicef and be used to provide vaccinations and mosquito nets for children in need.
Grand Hyatt Incheon: (032) 745-1234
Jung District, Incheon
Incheon.grand.hyatt.com
Imperial Palace Seoul
To Dec. 27: The Imperial Palace Seoul has constructed a 5-meter (16 foot) Gingerbread Dream House in the lobby for a charity fundraising event. The funds will be donated to support the Incheon Hyegwang Vision-Impaired Orchestra. With donations of 100,000 won ($86) from individuals and 200,000 won from companies, the donors' pictures or logos will be placed on the Gingerbread Dream House. The 2-meter spaceship models on the ceiling will be sold to companies that donate more than 2 million won. In celebration of the Gingerbread Dream House Charity Fundraiser, Incheon Hyegwang Orchestra has been invited for charity concerts, including one on Dec. 24. Incheon Hyegwang School is a special education school for the visually impaired. The orchestra was founded in 2008 to overcome disability through music and bring hope to society. The Imperial Palace Seoul's Gingerbread Dream House was first introduced in 2010 and will be installed for the sixth time this year. Resembling the cookie house from "Hansel and Gretel," it will deliver the excitement of Christmas and the warmth of sharing to the families, children and couples who visit the hotel. It will be exhibited until January 2016.
Imperial Palace Seoul: (02)3440-8000
640 Eonju-ro, southern Seoul
www.imperialpalace.co.kr
Mercure Seoul Ambassador Gangnam Sodowe
To Dec. 31: Mercure Seoul Ambassador Gangnam Sodowe has made an agreement with Good Neighbors to donate profits from the PDR (private dining room) promotion in December. Titled "Give Your Love," the campaign is planned to celebrate the temporary opening of dinner buffet service at the Sodowe restaurant and to help the hungry. Five percent of the total revenue from the PDR promotion will be donated to Good Neighbors, under the name of the groups that rent private dining rooms. Each donor will be given an ornament bearing the names of the group to decorate the Christmas tree at the restaurant. Buffet dinner and venue usage are included in the promotion event, and options of premium keg beer, unlimited draft beer or unlimited wine are available. C.S. Kim, general manager of Mercure Gangnam, said, "We hope this will be helpful to those who are in need," adding, "We are planning to set the campaign up as a long-term determination, not just a one-time event".
Mercure Gangnam: (02) 2050-6000
10 Teheran-ro 25 gil, southern Seoul
mercuresoul.com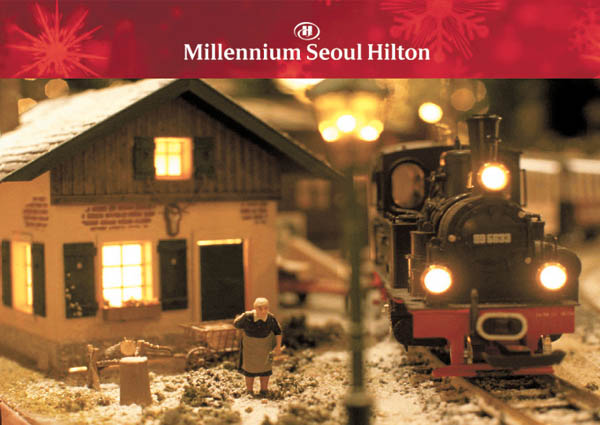 Millennium Seoul Hilton
To Jan. 17: It's that time of year again – and to help spread Christmas spirit and Yuletide joy to everyone in Seoul, the Millennium Seoul Hilton will unveil its Christmas Tree and ever-popular Christmas Train. This year marks the 20th anniversary of this holiday tradition. For the last two decades, every year a grand 10-meter Christmas Tree is placed in the center of the main lobby to welcome guests to the hotel and warm people's hearts with Christmas cheer. In the Lower Lobby, designers and engineers skillfully recreate a miniature village in the Alps, complete with snow-capped mountains, tunnels, wooden bridges and hot air balloons. The highlight, of course, for both children and adults who are young at heart, is the Christmas Train, a collection of around 75 exquisitely handcrafted locomotives and railroad cars that will chug their way through the little village. The spirit of Christmas is also remembered as domestic and international companies are invited to sponsor railroad cars. All proceeds are then donated to Hyeshimwon Orphanage.
Millennium Seoul Hilton: (02) 317-3000
Namdaemunro 5-ga, central Seoul
www.seoul.hilton.co.kr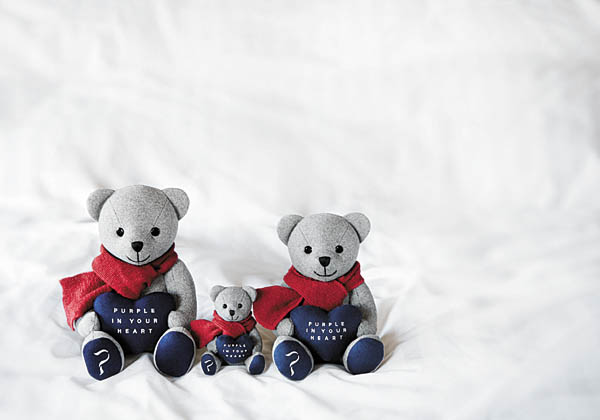 The Plaza
To Jan. 31: The Plaza, a luxury boutique hotel, is launching its charity campaign "Purple in Your Heart 2015" this winter with promotional offers on room packages, restaurants and the Xystum Flower Shop. In its fourth year, "Purple in Your Heart" is a donation campaign organized to promote the idea of sharing through The Plaza's signature item, the Plaza Teddy Bear, as part of the social responsibility program. Every year the hotel introduces new teddy bears in collaboration with the Teddy Bear Museum to raise funds. Following its huge popularity last year, the Plaza Teddy Bear Family will be launched again this year. Plaza Teddy Bears are sold at the front desk and all restaurants at the hotel. They come in three sizes: small (20,000 won), medium (40,000 won) and large (60,000 won). The family set that includes all three sizes is 100,000 won. All proceeds will go to Compassion Korea to help improve the environment for children at a sponsored village in Indonesia as part of the "Kids Care Project." When a guest uses any packages or services listed in "Purple in Your Heart 2015," they participate in the campaign automatically. The campaign also offers a dining experience at the Italian restaurant Tuscany on Dec. 24, 25 and 31. Guests will receive a course meal and two glasses of wine or champagne as well as one Plaza Teddy Bear. The price is 180,000 won for two persons (including tax and service charge). Finally, the boutique flower brand Xystum is offering a gift set of flowers and teddy bears. Prices start from 145,000 won.
The Plaza: (02) 771-2200
119 Sogong-ro, central Seoul
www.hoteltheplaza.com