When: Thursday, October 1 through Sunday, October 4
Where: Seoul International Park, 3250 San Marino Street, Los Angeles, 90006
Description: "Now in its 42nd year, the yearly Los Angeles Korean Festival has grown to be one of the largest ethnic celebrations in the nation. In addition to promoting Korean culture, the free festival also advocates the cultural diversity that defines Los Angeles. The festival serves as an instrument through which people of different cultures can come together in fun and entertainment."
Contact: 213-487-9696

Audition: JYP Entertainment
When: Sunday, October 4
Where: Los Angeles (Specific location will be announced soon)
Description: The A&R team at JYP Entertainment, the home of Wonder Girls, 2PM, miss A, and many more, is holding auditions in North American cities and stopping in Los Angeles on October 4. Talented singers and dancers who dream of K-pop stardom can apply at http://audition.jype.com/2015usacanada. Walk-in auditions are available as well.
Concert: Kim Bum-Soo
When: Friday, October 9 at 9 pm; Saturday, October 10 at 8 pm.
Where: Pechanga Resort & Casino, 45000 Pechanga Pkwy, Temecula, 92592
Description: Popular Korean vocalist Kim Bum-soo returns to America to entertain audience with his advanced, soulful, and humorous performance. Witness his greatness on the stage.
Contact: 213-368-9828
Concert: Jessi and Mighty Mouth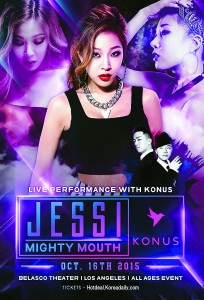 When: Friday, October 16 at 8 pm
Where: The Belasco Theater, 1050 S. Hill St, Los Angeles, 90015
Description: Jessi, a runner-up on MNet competition variety show "Unpretty Rapstar," will perform along with Mighty Mouth at an event promoted by streetwear company Konus Brand.
Contact: 213-368-9828