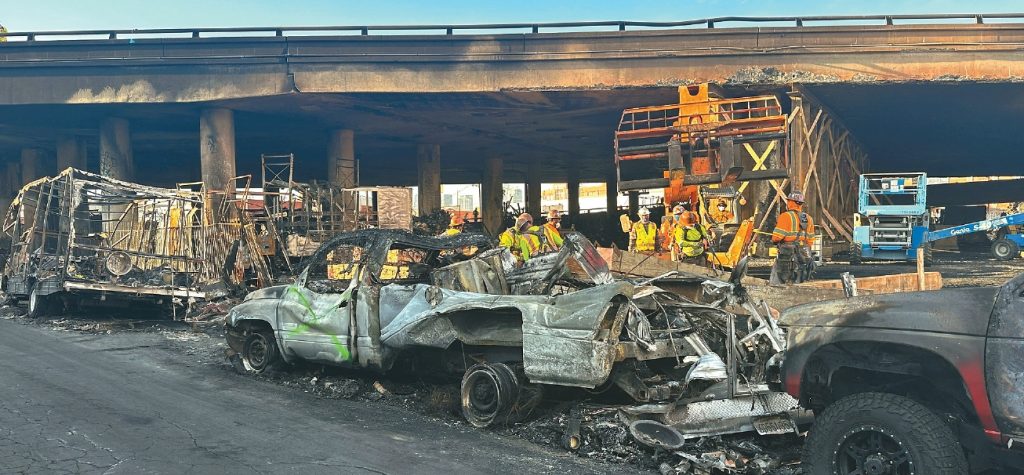 California Governor Gavin Newsom, in a press briefing on November 14, announced that it would take up to three to five weeks for the 10 Freeway to begin reoperation.
"Additional testing on concrete and rebar showed better-than-anticipated structural integrity of the freeway deck. This will not be a demolition; we will not need to demolish and replace the I-10," said Governor Newsom.
Los Angeles Mayor Karen Bass hailed the announcement but warned that a three- to five-week freeway closure is still a major ordeal in car-reliant Los Angeles. "Angelenos, it's good news. Instead of months, we are talking about weeks, as the governor mentioned. But it's still three to five weeks for this freeway to be out of operation," said Mayor Bass.
A massive fire under the 10 Freeway in downtown Los Angeles in the early morning hours of November 11, which closed parts of the freeway, appears to have been a deliberate act of arson.
In a press briefing on November 13, Governor Newsom described the fire as being set with "malicious intent," noting that it burned within the fence line and appeared to be an act of arson.
The fire was initially thought to have been set by homeless people trying to stay warm. However, now that the suspected ignition point has been located inside the freeway guardrail, fire and police officials are focusing their investigation on finding the person responsible for intentionally setting the fire.
There was no immediate information on a possible arson suspect or suspects, but Governor Newsom said the fire was set within the fence line of the storage business operating below the freeway, which was cluttered with vehicles, pallets, and other materials.
As the fire is presumed to be an act of arson, investigators are seeking evidence and witnesses who saw the initial setting of the fire.
According to authorities, eastbound traffic on the 10 Freeway can detour to Alameda Street, while westbound traffic on the 60 Freeway can exit onto the 5 North or 101 North. Freeway 5 southbound travelers can also take the 10 Freeway westbound and exit at Mateo Street to access local streets. Additionally, those heading northbound on the 5 Freeway can detour to the 101 Freeway northbound.
Metrolink announced plans to expand service on the San Bernardino Line and will operate additional routes to and from the City of Los Angeles.
Alternate routes can be found on the City of Los Angeles' website at emergency.lacity.gov, on Metro's website at www.metro.net, or by calling 511.
BY JUNHAN PARK, YEJIN KIM [park.junhan@koreadaily.com, kim.yejin3@koreadaily.com]