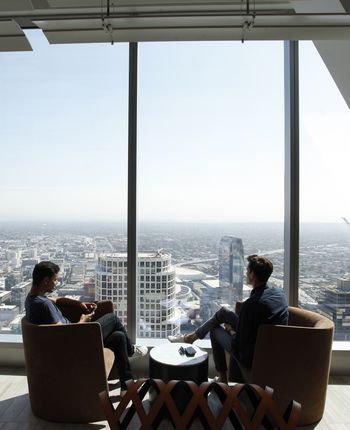 The all new Wilshire Grand Center finally hosted its opening last Friday to mark a new era that has changed the Downtown L.A. skyline.
Standing at 1099 feet, Wilshire Grand Center began construction in February 2014. It garnered considerable attention from the outset after an announcement was made that the new skyscraper would go on to become the tallest building on the West Coast.
With a unique glass design on the exterior wall, the new Wilshire Grand Center is expected to become the city's attraction.
◇ High-end size and facilities
Located on Wilshire and Figueroa in Downtown L.A., Wilshire Grand Center provides all of hotel, office spaces and stores. With 73 floors across 210 million square feet of space in total, it is larger by Glendale's Galleria shopping center by 500,000 square feet. The parking structure also provides spaces for 1,100 cars.
The event space inside the building is approximately 100,000 square feet and is connected to the hotel and office spaces from the fifth and seventh floor in a separate building. Thirty-three meeting rooms come in various types from a small conference room for 10 to a larger-scale lecture hall that could seat up to 1,500 people. The Wilshire Grand Ballroom is 21,379 square feet in size.
Office spaces are taking the main building from the 11th to 30th floors, while the 31st to 68th floors are occupied with hotel rooms. Among those, 108 are suites along with a presidential room. InterContinental Hotel, boasting its network of 4,600 locations around the world, will oversee its operations.
In addition, various amenities are available, including a high-speed elevator that takes a guest from the first to 73rd floor in just 43 seconds.
The operation of the main elevator will center on the lobby on the 70th floor. In other words, guests will have to go through the 70th floor before going to other floors unless they are using the other elevators that only operate through the lower level floors.
◇ Various amenities
Japanese and Italian restaurants will open on the 69th floor. The food selection will include sushi, pizza and other forms of buffet restaurants. On the 70th floor, an additional front desk and VIP club lounge will accommodate the hotel guests along with a bar, outdoor swimming pool, individually owned cabanas and a fitness center. A French steakhouse is set to open on the 71st floor, while Spire 73 will take the 73rd floor as the highest placed bar on the West Coast.
Seol Jung, a high-end Korean restaurant which once operated in the older Wilshire Grand Hotel, will reopen on the second floor early next year. Since June 14, 350 guest rooms have been used by tourists. That number will increase to 900 by next month.
"Opening the new Wilshire Grand Center is an individual dream as well as a realization of a promise I made to L.A. to reward this city with the best skyscraper in the world," said Hanjin Group chairman Yang-ho Cho. "This building will make a revolutionary change to Downtown L.A.'s skyline and become the city's landmark."
By Sungcheol Jin