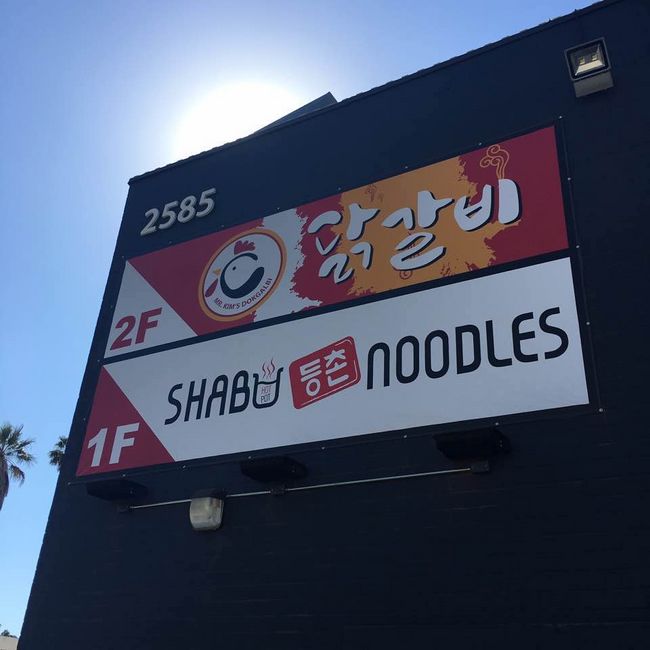 One recently opened restaurant on Olympic Boulevard in Los Angeles Koreatown sells shabu noodles (kalguksu) on its first floor and Korean barbecue chicken on the second. Both floors are obviously owned by the same businessman.
"The shabu kalguksu on the first floor is designed to expand our customer base to create a synergy effect [with the second floor business]," said the owner. "I just felt that having two separate concepts in one property can create a better business opportunity."
Such is the case with the restaurant described above, the business pattern in L.A. Koreatown is rapidly changing. The proverbial "two brands under one roof" is starting to gain popularity among consumers.
There are various forms of the so-called one-store, two-purpose businesses. Those include Korean dry sauna with a built-in restaurant, pet hospitals offering grooming services and hair salon and nail art shops.
Multipurpose businesses are attractive to entrepreneurs looking to create the synergy effect by providing a diverse set of items, enabling consumers to have wider options.
Entrepreneurs in Koreatown have taken such a concept to a new height. Across the neighborhood, there are cafes acting as flower shops and children's clothing stores also selling women's accessories. Similar concepts are now taking over restaurants, as consumers have the option of having kalguksu and barbecue chicken, jjambbong (Korean-Chinese spicy noodle soup) and fried chicken, coffee and smartphone sales as well as shabu shabu and soju.
At Mr. Lee Jjambbong on Vermont Avenue, customers have a wide range of options, including Korean-Chinese food, friend chicken and boba (bubble teas). In essence, Mr. Lee Jjangbbong has technically become a three-purpose business.
"There are more businesses now offering larger menus and services," said Mr. Lee Jjangbbong president So-young Jin. "There's obviously a risk from an owner's perspective, so it's extremely important to ensure quality while managing your employees properly."
Industry experts say that multipurpose businesses are also capable of limiting downtime more easily than traditional stores or restaurants as they serve a wider base of customers, which makes them more pragmatic and efficient in increasing revenue.
"By making two brands available in one store, an owner can save money while ensuring a bigger business opportunity," said one industry expert. "I expect more similar businesses to launch across Koreatown in the future."
By Sung Yeon Lee