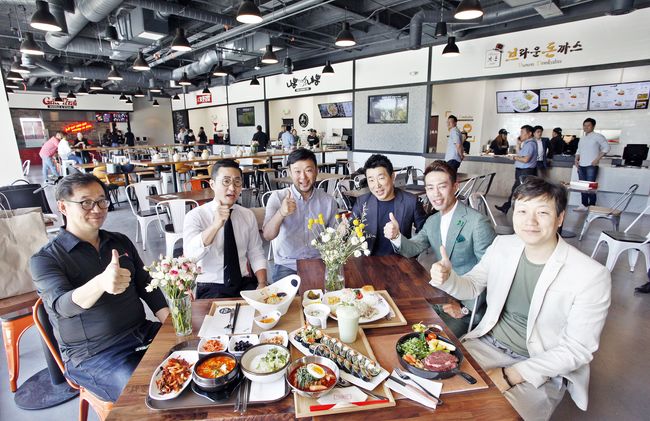 "This is the collection of the finest Korean restaurants."
The owners who have entered the Square Mix food court on the third floor of the California Market mall on Western and Fifth have come straight from Korea. Their goal is to replicate the same taste they provide in Korea to Americans.
Fusion Chinese-style noodle restaurant Nipongnaepong, premium kimbap restaurant Robot Kimbap president Bong-hwan Choi, Brown Donkatsu president Hoon Shim, 1962 Sogongdong Tofu president Young-seok Huh and Grill Thai president Hyung-woo Kim are all putting forth their due diligence ahead of the June 30 soft opening.
They promote their dishes strategically from handpicking every ingredient to plating. Chefs from Korea were brought to provide instructions to their colleagues based in the U.S. on how to make the trendiest Korean food.
"Our basic soup base is brought directly from Korea," said Nipongnaepong president Hyun-jun Kim. "We're trying our best to provide the same exact services and foods as we do in Korea."
Robot Kimbap president Bong-hwan Choi said: "The goal is to reduce carbs as much as possible, so 100 percent of our rice is brown rice. The quantity is much smaller than usual, but our rolls are filled with premium ingredients."
Ocean Partners Group (OPG), a firm in charge of Square Mix, stressed that the opening is being prepared meticulously to ensure the food is both tasty and healthy. The prepared opening was delayed due to health inspections and interior construction, but OPG added that the best efforts are being put forth to bring its plans to life as soon as possible.
"The grand opening is set for July 7," said OPG president Hyun-suk Yoon. "The reason why we set it exactly a week after our soft opening is to reflect our customer's feedback as much as possible."
Café Bora, famous for its ice cream and shaved ice with sweet potato, will set to open in July or August along with soba noodle restaurant Mimiyeonga.