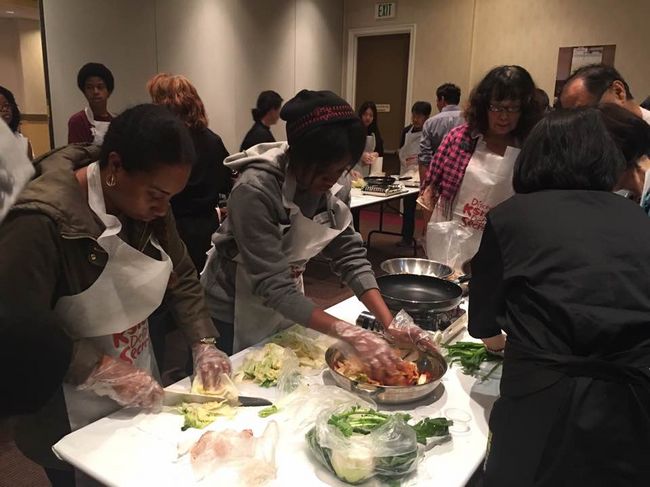 "It tastes even better after making it myself."
An event hosted by The Taste of Korea to introduce non-Koreans in the United Sates was held between Oct. 27 and 30, as participants were given cooking lessons to make bulgogi (marinated beef slices), bibimbap (vegetable rice bowl), seafood pancake and dakgalbi (spicy chicken barbeque). The event was also sponsored by South Korea's Ministry of Agriculture, Food and Rural Affairs and Hansik Foundation.
Around 30 students took part on the first day of class. Their demographics varied, ranging from Vietnamese students to young African-Americans.
The students were shown introductory videos of Korean food history, followed by hands-on lesson from instructor So-young Cha who demonstrated how to make bulgogi as well as different kinds of kimchi. Cha also held a lecture about shopping for the right ingredients when making Korean food. The participants were busy taking notes, as some of them even used their smartphones to record Cha's demonstrations.
"Food is the face of a country's culture," said Olempia Castillo, 26, a Korean major at Los Angeles Community College. "This class has given me a chance to learn and understand the Korean culture. I really like ogokbap (five-grain rice). My plan is to invite friends to serve them with a spread of Korean meal that goes well with it."
Deonjahaye Johnson, a president of LACC's Korean club, said: "It's so much fun to learn how to make Korean food in a diverse way. It's fascinating that adding pears to marinate beef makes the meat so much softer."
After Cha's demonstrations, the students themselves were given a chance to cook on their own.
"Freshly made kimchi is so delicious," said Ellen White, a 29-year-old participant. "I'm going to keep the kimchi I made today in the refrigerator for the next month. I think kimchi can even be considered a Korean-style salad that would go well with steak."
Tereda Tamaki, a Japanese-American participant, explained, "A lot of Japanese cuisine is based on soy sauce, but Korean cuisine is based on many different sauces, like soy sauce, gochujang (red pepper paste), doenjang (soybean paste) and gochuragu (chili powder), which is what makes it attractive. I've been learning Korean food via cook books and videos online, but learning it firsthand from an instructor has provided me with a deeper understanding of it."
"Some applicants could not be accommodated to take part in the classes as spaces were limited," said Jong-taek Lim, the chairman of The Taste of Korea. "We plan on offering the classes constantly in the future to raise the interest and visibility of Korean cuisine."
By Sung Yeon Lee