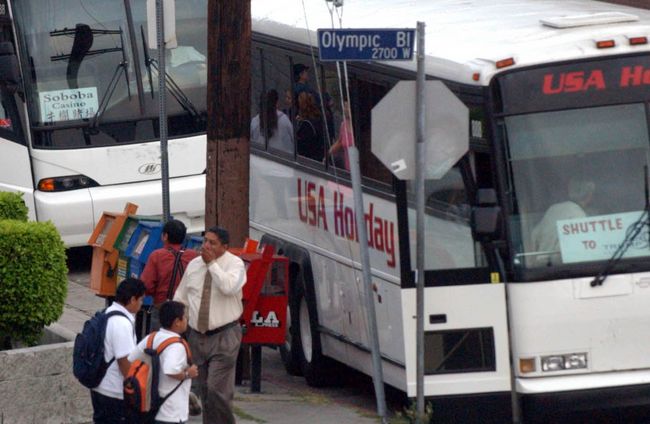 At 8 a.m. on Oct. 24, a series of large buses lined up on the corner of Olympic Boulevard and Vermont Avenue, an area that is considered as the center of Los Angeles Koreatown.
Those buses were transportation provided to take passengers to casinos around the city, including Pala, Morongo, San Manuel, Pechanga and Soboba. Only a day before, one of the casino-bound buses that departed from Koreatown crashed into a truck and killed 13 people and injured 31. Regardless of the frightening news, a flurry of people were flocking into the corner of the street to catch the buses.
About 30 buses leave Koreatown on a daily basis. As one bus takes up to 50 passengers, it is conceivable to say at least 1,500 of those people go to casinos on a single day.
Local residents have been making requests to the city government for more than 10 years, but no substantial response has been taken to protect the local community from those who occupy the neighborhood every day.
Advocacy groups, including Wilshire Center Koreatown Neighborhood Council (WCKNC) and Pico Union Neighborhood Council (PUNC), have strongly voicing their concerns to the city government. However, no action has taken place since 2006 when then L.A. Mayor Antonio Villaraigosa banned large casino-bound buses from remain parked for a lengthy period on Olympic Boulevard.
"I get the sense that there is some sort of a dark connection between casinos and local politicians and the police department," said one 54-year-old local resident, only identified by his last name Kim. "It makes no sense otherwise for there to be no regulation from the city in response to gamblers flocking into the neighborhood."
#City councilman Wesson denies taking bribes
Despite the accusation, L.A. City Councilmember Herb Wesson refuted the claims that he has ever received funds from nearby casinos to remain silent. When asked to explain if Wesson plans on taking any action on casino-bound buses in the city, his press deputy Vanessa Rodriguez responded: "The responsibility is on the LAPD. Problems related to buses for gamblers must be reported at 311."
The local community has been opposing the casino-bound buses as they create heavier traffic congestion, limited parking spaces, distracting noises and loitering of passengers who often smoke and damage the environment.
"We plan on having a press conference soon to call on the city government to ban the buses from our neighborhood," said PUNC chairman Jay Park. "We will continue to fight until the city protects the people who actually live in L.A."
#The danger of traffic accidents
Another unfortunate circumstance that has been created by the casino buses is the increased probability of car accidents due to traffic congestion. As the parked busses block the view of drivers, the likelihood of accidents becomes significantly higher for cars making a turn on the corner of the affected streets. The local residents claim that the company that owns the buses preoccupy the parking spaces from early mornings.
#Be aware of addiction
The passengers who board the buses apparently receive around $30 coupons, which they can use once they arrive at the casinos. It has been widely known that those coupons are used by the casinos to trigger gambling addiction to attract a steady number of customers on a daily basis.
"I've seen cases in which people commit suicide in shame after losing all of their assets," said Hae-wang Lee, the head of the Korean American Mission Center for Addiction Recovery. "It pains me to receive calls from families of gambling addicts."
A 74-year-old Koreatown resident, only identified by his last name Lee, best exemplifies those who fell into the trap. "I went to a casino by taking the bus after a friend recommended me, but now I go at least two to three times. Even when I'm home, I feel jittery about going back to the casino," he said.
"Even on weekdays, there are many elderly Korean people like me at the casinos," Lee added. "Many of them gamble with the money they received from their children or from welfare. It's rare to see them win and leave with more money than they came with."
Every senior citizen in the U.S. receive Supplemental Security Income on the first day of every month. For some of them in Koreatown, those days are considered "Casino Days."
"The money given to senior citizens to help them make ends meet is turning into gambling money," said a Koreatown travel agency representative. "It's a pity to see them repeatedly lose money, but I see them boarding the casino bus in the following month."
Another Koreatown resident added: "It's easier to get addicted to gambling as there's not much else in Koreatown for elderly people to entertain themselves with."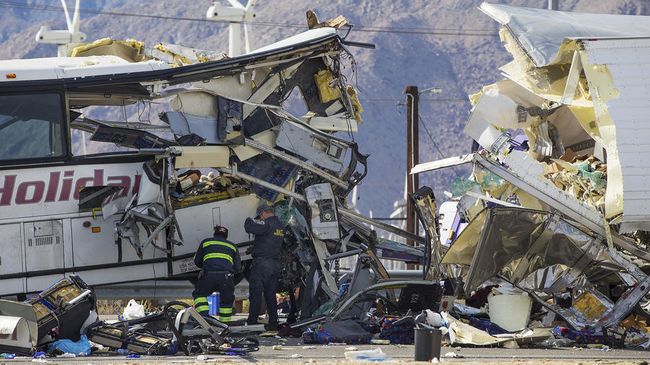 By Michael Won