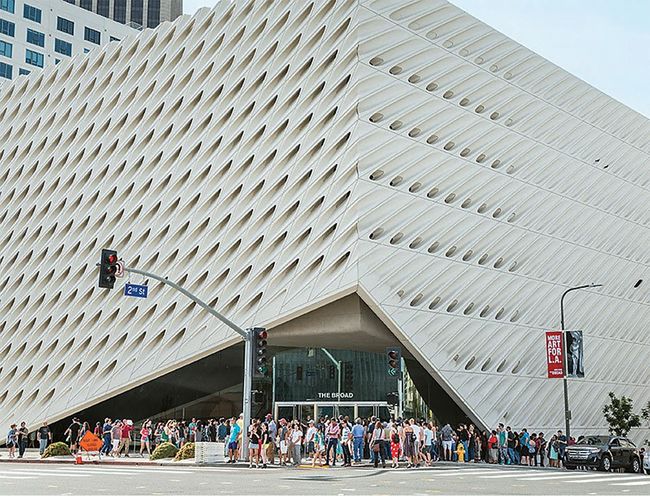 The Broad has become one of the most popular cultural attractions in Southern California only in 15 months of its opening.
Opened in September, 2015, the contemporary art museum on Grand Ave in DTLA has greeted over a million visitors already.
The Broad is founded by Eli and Edythe Broad, the couple known for their broad collection of American contemporary art. Since its foundation, the museum has taken a significant part in turning Downtown Los Angeles into a cultural town.
The museum, which is open to the public for free, has been overwhelmed with visitors everyday for the first year. The first special exhibition, Cindy Sherman: Imitation of Life, recorded 120,000 visitors for the four-month period of the exhibition.
Not only does The Broad offer a great spectrum of exhibitions, but it also plays an important role as the city's educational organization. The museum actively engages various forms of art including film and music, providing art education to students in Southern California.
"The Broad has provided about 15,000 art-related public programs," said Alex Capriotti, Director of Marketing and Communications at The Broad. "We're glad to be able to fulfill our duty as a public art education institution."
The Broad readies special exhibitions in this new year as well.
One of the most interesting exhibitions is Yayoi Kusama: Infinity Mirrors. The exhibition, which presents Kusama's works created throughout her life, will be put on display from October 21, 2017 through January the following year.
Original article by Yoo Yi-na
Translated by Heewon Kim